LeoVegas Mobile Casino Introduces Multiplay Functionality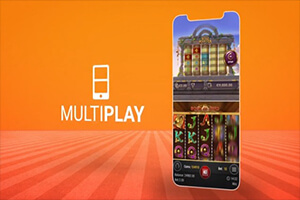 The award-winning LeoVegas Casino introduces a mobile innovation called Multiplay. Thanks to the new concept, which is an industry first, LeoVegas players will be able to play two games at the same time on their smartphones and tablets. If you want to learn more about the latest King of Mobile Casino functionality, stay with us.
What Is Multiplay?
LeoVegas is the first mobile casino that has introduced Multiplay. The innovative functionality allows mobile users to play two casino games at the same time on their handheld devices. It can be used in portrait mode with a screen split in two and the selected games occupying the upper and lower part of it. If you prefer the landscape mode, you can use the feature as well thanks to a picture-in-picture layout.
With an increasing number of players going mobile, the innovative LeoVegas feature will take the gameplay to a whole another level. Let's learn how to use it.
How to Use Leo Vegas Multiplay?
First of all, you should know that not all the games available at LeoVegas Mobile Casino support this functionality. Those that do are tagged with a green Multiplay icon. When you find a game that supports Multiplay, look for a white button representing a screen split in two at the bottom right of the screen. Click on it and you will be prompted to select another game.
With no need to change your screen or move between tabs, now you can double the fun. If you play the games in the landscape mode, one of them will be visible in full screen while the other will be minimised. You can move it to any part on the screen and click on it to swap the games. If you don't feel like swapping the games, use the portrait modes with both games fully visible on the screen.
Click here to visit LeoVegas and try Multiplay on your smartphone or tablet!