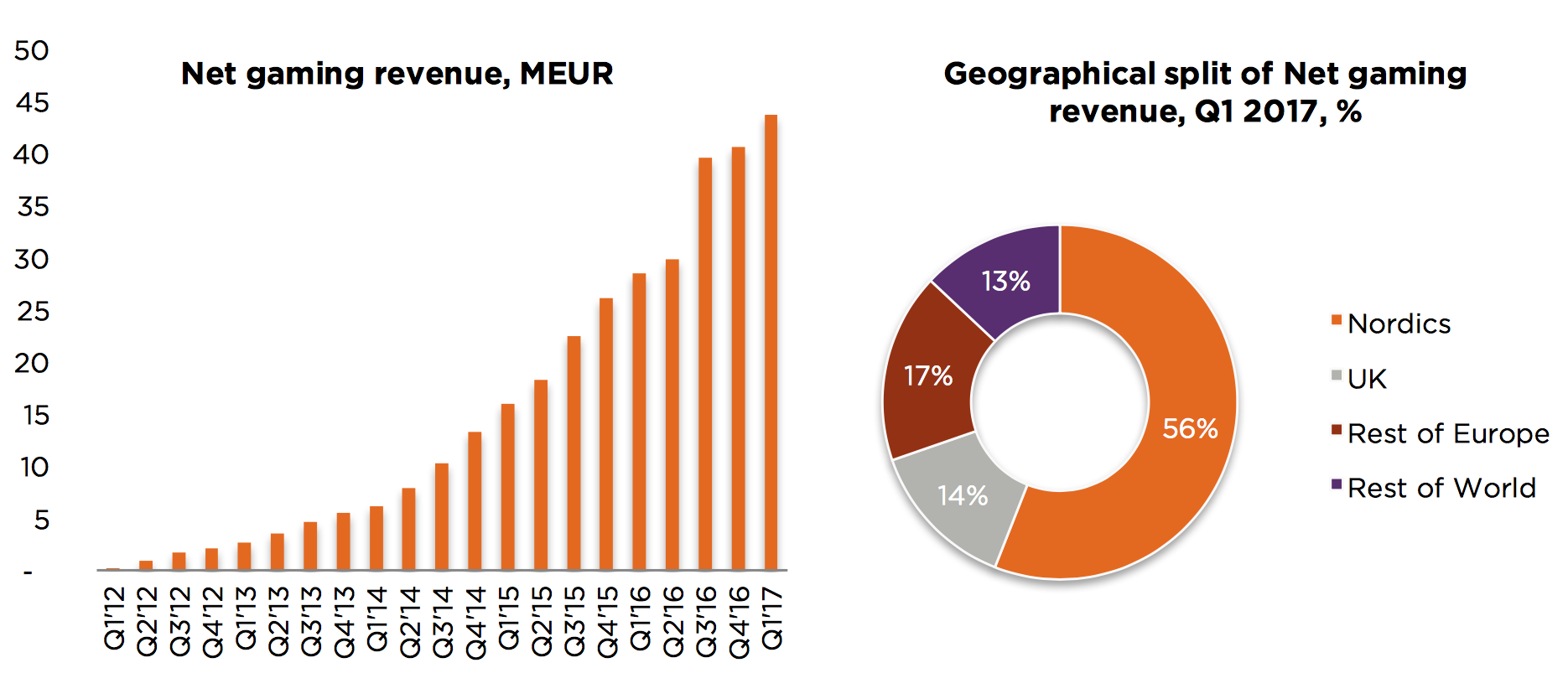 Swedish mobile gaming company and online casino provider Leo Vegas has just announced the results for the first quarter of 2017.
The biggest and the most important news is that the company scored a 49% increase in revenue to a total of €43.9 million, while the organic growth was 46%.
An 18.3% of total revenue came from regulated markets, which is a slight increase when compared to the same period of 2016.
Playing on the go is becoming more and more popular, and it reflected on the Q1 results. 67% of all deposits were made using a mobile device – that's 6% more than in the first three months of last year – while the total deposits scored a staggering 86% increase to €149.6 million.
More customers made deposits in January, February and March this year (42% increase), with the number of new depositing customers also rising by 23%.
Successful Launch in Denmark
LeoVegas entered the Danish market, and this move proved to be extremely successful, with 3% of the quarterly Net Gaming Revenue originating from said country.. The company received the license back in October and became the first purely mobile gambling operator to enter the highly competitive and lucrative Danish market.
Gustaf Hagman, CEO and co-founder of LeoVegas said the launch in Denmark showed the full strength of the brand. He added the combination of technological and product excellence, combined with effective marketing had given excellent results.
Great Expectations
Excellent results continued in April, with Net Gaming Revenue rising by 79% to a total of €16.5 million. Danish market performed strong in April, accounting for 5% of monthly revenue. The company expects to have a slightly higher revenue than in the first quarter.
The first quarter was stable which is important for the company's financial goal of reaching €300 million in revenue by next year.
Founded in Stockholm in 2011, LeoVegas is one of the biggest names when it comes to providing quality online casino and sports betting services. The company operates on some of the world's most competitive markets and employs more than 350 people.
For latest news from the online casino industry, visit our casino news section.