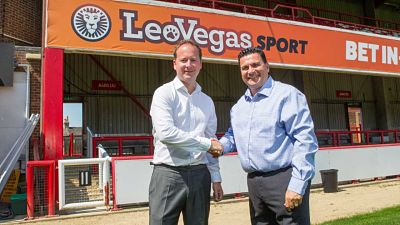 FC Brentford has agreed a two-year deal with online casino operator LeoVegas.com, whereby LeoVegas as the new title partner will also be the lead sponsor for new shirts. The agreement covers club's two final years at Griffin Park stadium.
On the front of Brentford new adidas shirts now stands LeoVegas brand title. The company will also be displayed at various spots at the stadium – at the Brook Road end above the goal, on the Braemar Road stand and on pitch side – as well as the programme advertising and promotional events.
Partnership with Mutual Benefits
Brentford FC Chief Executive, Mark Devlin, stated he was delighted about becoming partners with LeoVegas and added: "We are pleased to add a rapidly growing brand like LeoVegas to an already strong commercial family that includes local, national and international companies. During our discussions with LeoVegas it was clear that they were a company we could work with. There was a synergy between us and the benefits of the relationship appealed to all parties. We believe there are common values we share and we look forward to working closely with LeoVegas over the next two years."
Positive comments are coming from the other party, as well. Jon Sinclair, Head of LeoVegas in UK and Ireland, also delighted about the partnership, said: "The much-loved club is, like us, ambitious and innovative – which perfectly aligns with our technological expertise and mobile first ethos. This partnership marks an exciting growth in our sports offering, and offers the perfect platform for us to engage with more football fans – something which is important for us to do over the coming months as we focus on the evolution of our sports betting product. Brentford play in one of the most-watched leagues in the world and have incredibly loyal fans – we're thrilled to be at the heart of the action with them."
Roaring Partner
LeoVegas has proved its leading position in the world of online gaming, adding one more strong partner to the list. Besides renowned partners like Leicester Tigers and golfer Matias Schjolberg, LeoVegas is now with FC Brentford bolstering its presence in the football industry, as well.
LeoVegas is one of the leading online casino operators, with a wide range of games by popular suppliers such as NetEnt, NextGen, Microgaming and others. This Malta-licensed company has been a roaring success since its founding in 2011 and nowadays it continues to grow by gathering reliable partners around.