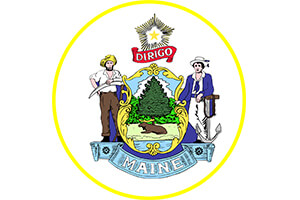 Maine has become the fifteenth state to legalize daily fantasy sports (DFS), after Governor Paul LePage failed to act on the legislation.
Officially named as "An Act To Regulate and Tax Sports Fantasy League Activities in Maine", the bill introduced by Senator Roger Katz and jointly sponsored by Representatives Jeffrey Timberlake, Bradlee Thomas Farrin and Jared Golden and state Senators Andre E. Cushing III, Troy Dale Jackson and Garrett P. Mason.
The bill was submitted to Governor LePage in June, who chose to do nothing, thus allowing the bill to become a law.
With this move, the Pine Tree State has become the fifteenth US state to legalize and regulate DFS, and the sixth one to do so during this year.
What Does the Law Say?
Maine's law declares DFS is a game of skill and not a game of chance, therefore exempting it from state gaming laws.
The oversight power is granted to the state's Gambling Control Unit, while the director of this body received a wide range of authorization, including the ability to enforce rules.
The law also states the licensing fee for operators whose revenue exceeds $100,000 is $2,500. This rule will likely apply only to operators such as DraftKings and FanDuel. Smaller operators with revenue less than $100,000 are not subject to a licensing fee.
The same threshold is applied when it comes to taxation. Operators earning more than $100,000 will pay a 10% tax. Bearing in mind the current situation in the industry, the only two operators who will be taxed in this manner are DraftKing and FanDuel.
Consumer Protection
The law brings a number of mechanisms of consumer protection, similar to those seen in the legislatures of other states.
The laws clearly stipulate, among other things, that operators must prevent their employees from playing, establish responsible gaming protocols and separate player funds of the operation ones.
An audit on the allocation of funds is required only for those parties whose revenue exceeds $100,000.
The minimum age for players is 18, while contests based on the collegiate or amateur events are strictly prohibited.
DraftKings and FanDuel spokesperson Marc La Vorgna praised the adoption of a regulatory framework in Maine. He said the new law would not only offer protection to consumers but also spur the further growth of the industry itself.
To summarize: fifteen states down, thirty-five more to go!