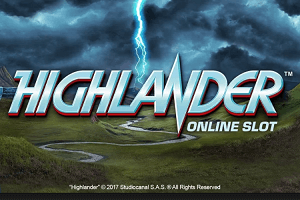 All fans of the ever-popular Highlander movie will be pleased to know that Microgaming managed to sign a licensing agreement with Studiocanal, by which they will develop the Highlander video slot, based on the original movie from 1986. The film that made Christopher Lambert a worldwide star will definitely offer plenty of material for an action-packed game to be enjoyed by an army of Highlander fans across the globe.
Connor MacLeod is finally back
The famous immortal swordsman from Scottish highlands, Connor MacLeod is coming back to the screens and will once again battle with the Kurgan, because, "There can be only one". Since the story is set between 1980's New York City and historical Scotland, we expect that the 2017 release will offer lots of rewarding features covering this period of history. According to the officials of Microgaming, the slot will follow the theme completely, and that it will try to capture the magic of the movie that was immensely popular thirty years ago.
Highlander will be released on 6th December
Since the game is still not completely finished, Microgaming decided to keep all the information close to their chest. However, there were a few leaks, regarding the release date and the layout. The slot will go public on 6th December, and will feature five reels and offer 243 ways to win. The main characters from the movie will definitely be involved, so Connor MacLeod, the Kurgan and Brenda J. Wyatt will most definitely appear on the reels. We are still to see whether the developers decided to include Connor's wife Heather MacLeod and his mentor Juan Sánchez Villa-Lobos Ramírez.
As for the special features incorporated, the good people of Microgaming remained mysterious, and we can only guess what parts of the movie will be used for Free Spins, Bonus games, or some other special features. One of the features will definitely involve the battle between MacLeod and the Kurgan, at least that's what we hope for because it would represent a smashing scene.
The soundtrack will also be fantastic, since the movie itself had an amazing soundtrack, with lots of songs that later became huge hits, like Who wants to live forever, and the Highlander theme. David Reynolds, Games Publisher at Microgaming, stated that the Highlander video slot will boast "blistering guitar tracks".
In order to kill the time until Highlander is release, we suggest you try some of the latest releases cooked up in Microgaming's creative kitchen, like Oink County Love, Emoticoins, 108 Heroes and Gnome Wood.
Visit Dunder Casino to give Microgaming slots a try!