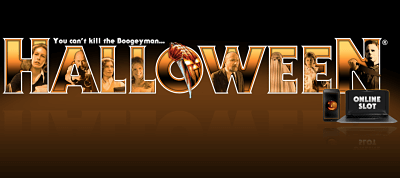 If you've suffered from nightmares due to the classic horror film Halloween and its main protagonist, the persistent killer Michael Myers, then we advise you to keep reading with caution – we'll be dealing with some scary issues.
Not that we aren't frightened as well, but the excitement prevails because the industry giant Microgaming just signed a licensing agreement to develop a branded slot based on the cult slasher movie from 1978. Some of you surely enjoy a bit of blood and gore as long as they serve the purpose of entertainment, in which case the upcoming slot release will find you ready and willing to place bets and spin the reels for wins!
Directed and scored by John Carpenter, the terror-packed film starred Donald Pleasence and young Jamie Lee Curtis – in fact, this was her movie debut. The story follows an unfortunate individual Michael Myers who became a murderer at the tender age of six, killing his sister most gruesomely. His killing spree continues 15 years later, and this was barely the first instalment of what would become an extremely successful horror franchise.
There have been 9 other movies released, followed by the same international acclaim as the first one. The army of fans only grew bigger over the years and Microgaming obviously though this was the opportune moment, nearly 4 decades later, to develop and release a Halloween slot, having previously signed an agreement through Compass International Pictures to use original material and characters for the benefit of the game.
About the Halloween Slot Game
The slot is scheduled for release later in the year, and David Reynolds, Games Publisher at Microgaming, expressed his delight for working with such a culturally influential brand. He confirmed that the team assigned with developing the slot had embraced all the elements that made the movie so iconic.
We can only make educated guesses that our favourite characters will be present on the reels and that the original score will fill out the audio background of the gameplay. The studio wasn't silent about the signing deal either. The SVP of Compass, Ryan Freimann, didn't hide the excitement due to partnering up with Microgaming with the purpose of honouring the franchise and bringing joy to all the loyal fans out there.
As the famous quote goes: You can't kill the Boogeyman… Hopefully, you'll be able to make him pay out some worthy winnings soon, at Microgaming-powered casinos across the web.
The leading software developer has just unveiled their new EmotiCoins slot game, and their latest announcement comes as yet another nice surprise for their loyal fans.