Mr Green Launches Club Royale Live Casino Studio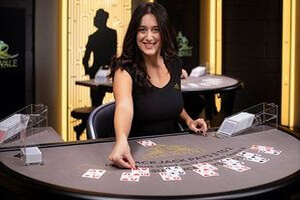 Mr Green Casino has announced the launch of its brand-new Club Royale Live Casino Studio. The studio features Blackjack Tables which are a perfect fit for all Mr Green high-rollers. Stay with us to learn more about these exclusive tables and a promotion offering Magic Cash Cards worth €50 in cash.
About Club Royale Studio
Club Royale is a VIP membership-only club at Mr Green Casino. It offers bespoke promotions tailored exclusively to its members. Apart for these, Club Royale members can now join one of three Live Blackjack tables accepting €10 to €25 minimum bets.
Blackjack table 1 accepts players from 2PM to 2AM and a minimum bet you can place while playing is €10. Blackjack 2 supports bets starting at €20 and players can join it between 8PM and 4AM. Finally, at the Blackjack table 3, you can wager €25 or more between 6PM and 2AM.
How to Win €50 in Cash
To celebrate the launch of Club Royale's high-roller Live Casino tables, Mr Green is giving away free cash. Between 13 and 30 November, so-called Magic Cash Cards will be added to the decks at selected tables. The dealer will turn around one card that will be acting as the Magic Cash Card for that hour. To win €50 in cash, you have to land the exact same card within the hour. It doesn't matter if you have been dealt it in an initial hand or as an extra. Once you get the same card, €50 in cash is granted. You can split and win as well. However, Bet Behind does not qualify for the promotion.
Only Mr Green's Club Royale members are eligible to enter the promotion. They have to play at the Club Royale exclusive Live Casino Table where the promotion takes place to qualify for it and claim a bonus up to three times a day. Keep in mind that the promotion will shift between the Club Royale tables. Magic Cash Cards will be added to decks at the busiest tables and they will be clearly visible to players. The card valid for a particular hour will be displayed next to the shoe. If a player lands the exact same card (both suit and number), €50 in cash will be added to their account.
All prizes are awarded in cash and credited to winners within 72 hours.
Click here to visit Mr Green and Club Royale Live Casino Studio for a chance to get Magic Cash Card worth €50 in cash!