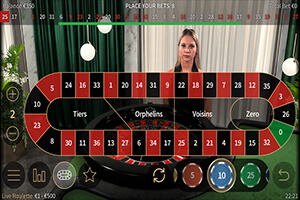 One of the leading live casino solution providers NetEnt has launched a new mobile interface for their Live Roulette. The improved UI optimises game performance across all screen orientations, thus elevating the user experience, says the renowned software supplier.
Revamping the Portrait Gameplay
Playing Live Roulette on a mobile device may be a bit inconvenient due to a complex betting layout showing multiple options. Add statistics to it, and you will get a crowded screen. Thanks to a new interface NetEnt has rolled out for its Live Roulette, mobile users will be able to enjoy hassle-free gameplay regardless of the screen orientation.
The new design revamps the portrait gameplay by introducing 18 Recent Numbers. This should enable players to make use of the feature without difficulty. As for the landscape mode, it features 34 Recent Numbers. Both modes provide players with dynamic camera angles and quick access to favourites and statistics.
According to the press release published on NetEnt's official website, their live dealer Roulette will now show more immersive streaming in both portrait and landscape view than any other product on the market. Players can enjoy an immersive video view at almost 50% of the screen in the portrait mode and 100% in the landscape mode, which will transport them to the heart of the action.
What's more, players can exclusively access the Racetrack section which allows them to place bets on groups or sections of numbers on the wheel. Now they can do that easily, without resetting the main felt at the start of every game.
Unrivalled Player Experience on Mobile Devices
Commenting on the launch of the new interface, Andres Rengifo, Director of NetEnt Live, said that this division of the gaming company was committed to enhancing their products continually with new additions and updates.
"With our new Roulette mobile interface, we have once again raised the bar, developing a product that is primed to capitalise on the rapid shift to mobile," said Rengifo adding that their innovations should deliver an unrivalled player experience.
Click here to visit Mr Green and give NetEnt Live Roulette a try on your mobile device!