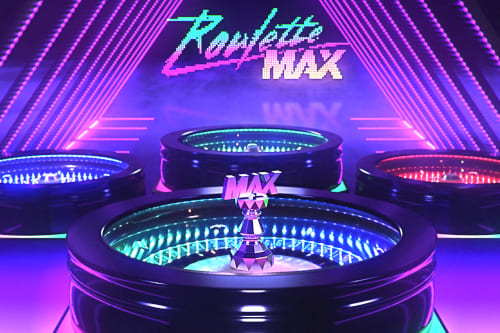 Say hello to Roulette MAX, the most awaited game by NetEnt Live for this year, which is scheduled to be released on December 1.
Fans of live dealer games can look forward to experiencing a whole new level of entertainment, as NetEnt Live promises a never-before-seen take on the genre.
An Exciting New Concept
Roulette MAX is a new multi-wheel release brought to you by NetEnt Live, offering a wide range of bets designed to equally appeal to both new and existing players.
There are three additional wheels (called the MAX wheels) next to a standard roulette wheel, leading to an increase in volatility. This combination brings the highest multipliers in Live Roulette, without involving RNG. On the other hand, winnings on every round go up to 5,000 times the bet!
Once the game starts, it will be hosted by a Game Presenter, whose job is to commentate on the action and introduce the game to newbies.
Players will surely enjoy the game's stylish environment, filled with immersive visuals and sound effects, while exciting winning animations to further add to the excitement.
New Bets on Offer
When it comes to betting, players can place inside bets using both the standard and racetrack layouts and can claim much bigger payouts thanks to the results on all wheels. It should be noted that straight and inside bets award prizes based on the result of the game's main wheel. However, if the results are found on two or more wheels, they will be included in the payout.
The addition of new wheels was a move designed to bring new types of wagers. Combination bets are awarded when you have the same result on at least two wheels during a single round, while Spread bets allow players to bet on a combined result from all three wheels.
In addition to Combination bets and Spread bets, players can place MAX bets, Column bets and Colour bets. They can also choose to repeat their previous bets and can even double their wagers if they wish to.
Once Roulette MAX hits the market on December 1, it will be available on a wide selection of devices, from desktop to tablets and smartphones. All major operating systems and browsers will be supported.
Players will be able to enjoy Roulette MAX 24 hours a day, seven days a week.