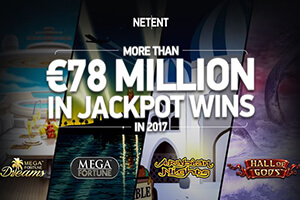 The year 2017 is coming to an end and it's time to look back and revise some of the important achievements, events and successful endeavors we've been through along with our favorite casino sites and casino suppliers.
According to latest reports, NetEnt, one of the greatest and most achieving providers of virtual gaming solutions in the world, has paid out a total of 321 jackpot prizes in 2017. What's even more astonishing is the fact that those jackpots combined amount to a staggering sum of €78.3 million!
Keep them Coming NetEnt!
NetEnt is famous for its glorious accumulative jackpot games, and some of them have global prize pools. That being said, it shouldn't come as a surprise that these games pay out multi-million prizes only a few months apart.
Operators embrace these games gladly, as they attract players who strive for that life-changing win. Mega Fortune is NetEnt's most famous progressive jackpot slot, but we also have the Mega Fortune Dreams version and games like Arabian Nights and Hall of Gods, which have also made numerous players happy over the past months.
Just earlier this month, over Christmas time, two players have hit the jackpot playing Mega Fortune Dreams on mobile and received €3.3 million and €3.5 million. This individual slot alone is revealed to have paid out €30.4 million during 2017. However, the highest jackpot this year was won on Hall of Gods and it was worth €7.5 million – the fourth-highest payout in NetEnt history!
Swedish Provider Happy to Continue in the Same Manner
Henrik Fagerlund, Chief Product Officer of NetEnt, said that everyone at NetEnt was extremely proud to be able to repay the customers for their loyalty with such massive rewards and life-changing experiences.
And he also pointed out that it was not all about one single slot, NetEnt has multiple progressive jackpot options. The players have a great choice of games which keeps them coming back, and there is no reason why this practice wouldn't continue in 2018 as well.
If you, too, would like to give some of their progressive games a chance, make sure to check our list of top NetEnt online casinos.