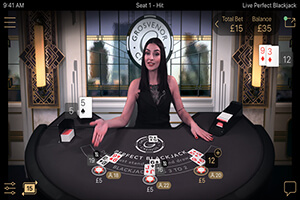 NetEnt has been on the market for quite a while now, holding the position of reputable and acknowledged software developers, constantly trying to create and deliver top-notch, innovative content. This time around, they are cooperating with Rank Group to design and release a unique live casino game, Perfect Blackjack, which is to arrive on the Grosvenor Casinos in the ensuing months.
Upgraded Version of Blackjack
If you are fond of this remarkable game, you will be pleased to hear that a new, upgraded version is about to be launched. Things get even better since the house edge is reduced to 0.5 percent due to the fact that players will be dealt cards in accordance with the Perfect Blackjack strategy. Other benefits come in the form of various new possibilities, players will be given the opportunity to choose if they want to double down or auto-split beforehand, dealing will be faster and more players will be allowed to participate. If you'd rather pass a hand and continue playing later, you will be able to do so. To top it all off, Perfect Blackjack offers an astounding theoretical return to player of 99.5%.
Representatives of both NetEnt and Rank Group believe that this game will be a thrill for a wide range of gamblers, newcomers and experienced ones, those who wager frugally and high-rollers alike.
To see and try out Perfect Blackjack for the first time, one would have to visit ICE where the game will be presented and available for play on NetEnt stands.
Another Rock Legend Featured in the NetEnt Rocks Series
One more addition to the prolific NetEnt portfolio is coming in the shape of a music-themed video slot inspired by the one-and-only Ozzy Osbourne. No need to say how huge this is for fans of the famous and unparalleled musician recognized both for his solo career and performance as the lead singer in the heavy metal band Black Sabbath. With popularity which has lasted for 50 years, an Ozzy-themed slot will definitely become a hit. The slot will feature songs and images of the legendary Prince of Darkness, and as far as the gameplay is concerned, NetEnt will certainly make sure that it is as entertaining and rewarding.
Global Merchandising Services that represent Ozzy Osbourne are looking forward to working with NetEnt and having one of their greatest stars become part of the Rocks series where Jimmy Hendrix, Guns N' Roses and Motorhead already await. If we are to judge by what we've already seen in these games, we are in for a treat with the upcoming Ozzy Osbourne edition.