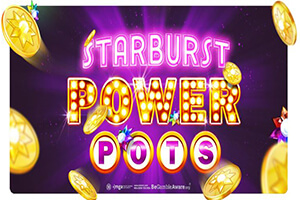 NetEnt, one of the leading software developers, has announced the launch of Starburst PowerPots, a Community Jackpot system where players collect tokens to win a range of prizes. The product will be available across some of the NetEnt best performing games including the legendary Starburst slot.
Innovative Jackpot Concept
According to the press release published on the developer's official website, Super PowerPots is an innovative jackpot concept that introduces Starburst tokens players can collect for a chance to bag a community jackpot while playing together with other players. They can do it across multiple casino brands and games by filling up the PowerPots progress bar. The community pot will be divided among any number of players, and they can win a share of it even if they happen to be offline.
NetEnt has selected their most popular titles to create a family that will share the state and jackpot values. The top prize is the Major progressive jackpot. The Starburst PowerPots platform is highly customisable and designed with maximum configurability for operators. It offers operators multiple RTP configurations, contributions and prize setups while enabling them to tailor the user interface to match their casino brand.
Huge Engagement for Players
Bryan Upton, NetEnt Director of Games, said that the concept hand been developed in line with their customers' and players' expectations taking a cue from all aspects, from art assets to game mechanics.
"We are using leading-edge games design approaches to make this jackpot family with our most powerful games simple to understand yet compelling," said Upton adding that the use of Starburst brand would create massive acquisition while the jackpot mechanics would drive huge engagement for players.
Commenting on the new product, Upton also said that Starburst PowerPots represented community gaming that was created without overengineering and overthought on what slot players really wanted.
"This product can fit into any operator's portfolio and deliver any experience, from large life-changing prizes to super-fast hitting jackpots," added Upton.