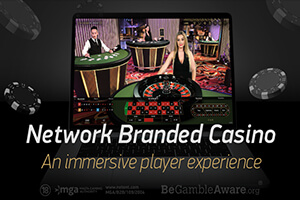 NetEnt has launched a new live casino product called the Network Branded Casino (NBC). It is designed to boost flexibility and increase operators' control of their live casino environment. At the same time, the Sweden-based software developer has partnered with Live Fraud Solutions (LFS), a live dealer product protection specialist, to ensure product integrity across its NetEnt Live portfolio and optimise anti-fraud measures.
Increased Choice and Flexibility
The NBC consists of two different rooms with one of them containing two standard Live Blackjack tables and a VIP table. The other room offers NetEnt's latest game Perfect Blackjack, Roulette and Common Draw Blackjack. The new live casino product will allow players to move between tables and rooms without having to return to the lobby.
The new live casino environment has three product tiers that allow operators to customise backgrounds, from entry-level with generic backgrounds to a fully tailored presentation. Each level provides players with an immersive experience while enabling operators to develop a live casino that builds strong player loyalty through interaction with professional live dealers.
"The Network Branded Casino from NetEnt Live has a range of quality solutions that suit all types of operators and their objectives," said Andres Rengifo, Director of NetEnt Live.
He added that the product was fully attuned to operators' needs allowing them to prioritize what is most important to their brand through new levels of flexibility.
Committed to Maintaining the Highest Levels of Integrity
NetEnt has announced that they have partnered with Live Fraud Solutions to minimize risk and enhance game integrity across their live casino portfolio. Having added LFS tools to their platform, NetEnt Live will focus on the integrity of equipment and player behaviour analysis.
According to the press release published on the developer's website, stringent processes are in place aimed at detecting advantage play methods such as card counting and tracking, Roulette prediction, robot play and bonus abuse. They should also detect outright cheating and collusion and carry out shuffle quality analysis.
"We are committed to maintaining the highest levels of integrity to offer the safest and fairest live gaming experience for operators and players. This involves us constantly reviewing our offering and adding Live Fraud Solutions' tools to NetEnt Live advances these capabilities to be the most robust possible," said Rengifo.
Toms Andersons, CEO of Live Fraud Solutions, said that they were delighted that NetEnt as a global industry leader had chosen them as a partner.
"We look forward to working closely with the NetEnt Live team to deliver a product that achieves the maximum levels of integrity," added Andersons.
NetEnt has also announced that their Live Blackjack tables will use eight instead of six decks to further improve the gaming experience for players.