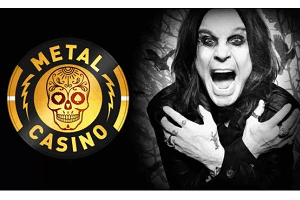 Metal Casino is all about music gaming and technology, but their biggest passion is metal. This is probably why the Malta-based casino decided to gather all big names from the industry in order to provide gamers and music fans with the best of two worlds.
The newest member of their ambassador team is the Godfather of Metal, the Prince of Darkness, the one and only – Ozzy Osbourne! The Rock & Roll inductee, who had pioneered the metal sound in the early seventies with his band Black Sabbath decided to join Metal Casino because, according to his statement, "Metal Casino is all about being true, relevant and dedicated to the customer".
He was more than glad to join a team that has more than 30 years of experience in music, gaming and tech companies, because he was certain that Metal Casino would keep it real, keep it original and do everything for their fans.
Ozzy Osbourne joins Star-Studded Line-Up
The Grammy-winning singer and songwriter liked these bona fide metal heads so much that he even decided to become a part owner of the company. Clas Dahlén, Chief Marketing Officer at Metal Casino stated that Ozzy Osbourne was a living legend of metal sound and his partnership with Metal Casino represented the biggest sponsorship deal in the world, since their all-time hero had decided to join the team. Metal Casino is not only a casino, but a platform that will join metal heads and casino lovers and help them share their passion.
The leader of the greatest metal band of all time is not the only ambassador from the music industry down at Metal Casino. Before Ozzy, lots of other famous musicians have joined their ranks, like MEGADETH's bassist David Ellefson, Scott Ian, one of the founders of Antrax, Ron 'Bumblefoot' Thal, the lead guitarist of Guns N' Roses, Dregen, the founder of Backyard Babies and his childhood friend Nickie Borg, also the founder of Backyard Babies, as well as Lord Ahriman, the founding member of Dark Funeral and Ryan Roxie, the guitarist and singer-songwriter.
If you are not into heavy metal, but still enjoy casino gaming, make sure to check out Casino Bloke's list of top online casinos.