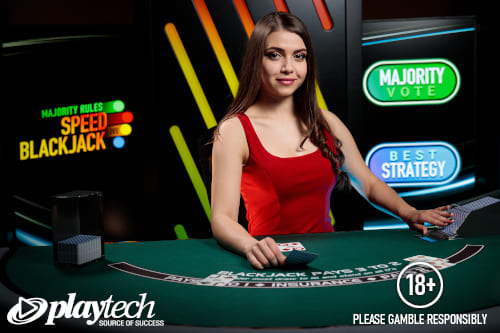 One of the major providers of online casino content Playtech has recently added the new live casino game to its offering.
The scalable release, titled Majority Rules Speed Blackjack, is focused on community play. It promises plenty of excitement as it will bring a whole dimension to the classic Blackjack gaming experience.
Two Equally Exciting Game Modes
According to Playtech, this will be done through a new way of interacting with players.
Majority Rules Speed Blackjack has two individual game modes, Majority Rule and Best Strategy. The most exciting part about them is the fact that each of the game's rounds will be dictated by the number of punters taking part in it.
When it comes to Majority Rules mode, it's the player that decide whether to Hit, Stand, Double or Split. If one of the options get more than half of the votes, it will be automatically activated.
Best Strategy mode is used in those games where there fewer players participating. Here, the game engine utilizes the predefined Blackjack strategy to resolve player hands. All the decisions, whether it is a vote or the best strategy on Split and Double, are made in advance.
Playtech's most recent live casino launch has been developed together with GVC. According to the information provided by the gaming technology giant, it will hit the market in July.
Thrilling Speed Blackjack Variant for Players to Enjoy
Commenting on the company's latest product, Edo Haitin, Chief Executive Officer at Playtech Live Casino division, said Majority Rules Speed Blackjack focused on both innovation and gameplay, the two factors that were at the core of the developer's product strategy.
He explained that players loved the experience Live Slot games brought, as it enabled them to feel like they were playing in a land-based venue. Combining classic Blackjack gameplay with the community play should become very popular with players, creating an exciting Speed variant for Blackjack.
Matt Charlesworth from GVC said it had been a pleasure working with Playtech on this game – from the initial concept stages to the very end. The company's Head of Live Casino pointed out it was an honour to offer GVC players the first game of its kind.
He also added the new release would offer a distinctive playing experience that wouldn't differ from the classic European Blackjack game.