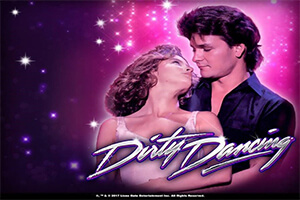 One of the biggest names when it comes to providing software for online casinos Playtech is set to launch its latest title, created in cooperation with Lionsgate and Interactive Ventures and Games.
Playtech promises a very exciting release, based on the romantic drama dance film Dirty Dancing, starring Patrick Swayze as Johnny Castle and Jennifer Grey as Frances "Baby" Houseman.
If you don't care about the movie this release is based upon, and want to focus only on hitting the spin button, you'll be glad to hear the game has two progressive jackpots.
Dancing Dirty on the Reels
Still, Playtech gave its best to follow the storyline of this massive box office hit, from symbols and scenes to background music.
You'll find lots of familiar characters on the reels, including the movie's two main protagonists, Johnny and Baby, but also many other items from the early sixties such as records, cars, radios and dancing shoes.
The game features scenes from the movie itself, which took the box offices by surprise back in 1987 when it was released, becoming a classic since.
Dirty Dancing Slot Review
Dirty Dancing is a 5-reel video slot, with 4 rows and 4 paylines, with plenty of features that enhance the overall gaming experience.
As we've mentioned, the game boasts not only one, but two progressive jackpots. Winning them is not easy since it will require passing all six levels of the click-and-pick bonus, but the sum that awaits those lucky enough is definitely worth the trouble. The jackpots will rise over time, so you can expect hefty figures.
You can win up to 35 spins in the Free Spins game, along with Dancing Wild and lucrative multipliers, while the bonus wheel at the beginning of the feature will be the one to reward you.
Whirling Wilds will also help you increase your winning, and you'll get the chance to see Baby and Johnny dance on the reels, with up to six Wild symbols in play, awarded randomly.
This is a title you'll definitely want to try out. Find it at Mr Green or LeoVegas, and who knows, you just might have the time of your life.