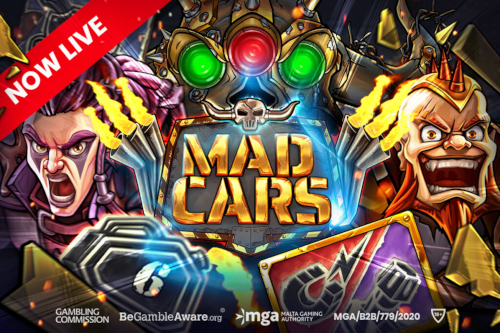 Push Gaming is back with a bang in summer 2022 with a brand-new video slot. Mad Cars is a post-apocalyptic video slot that features racing car symbols with a Mad Max and Death Race-inspired blend. The game's beautiful punk visuals are not just for show as Mad Cars has innovative mechanics that build on its death race theme.
Post-apocalyptic Innovations
When you buckle up your seatbelts in the Mad Cars video slot you will notice a traditional 5-reel board with 6 rows and 50 paylines. However, the fun starts when the various Extreme Metal-inspired racing cars start joining the fray. The game's crucial new mechanic is that the board is a race track and car symbols like the Instant Prize Car and the Scatter Symbol Car are racing to the top row.
The top row's boost reel feature will roll different symbols like fuel and multipliers while you spin the slot. Fuel rolls will have the cars on that reel moving up until they reach the top row finish line and cash out with various rewards. Additionally, one of the most exciting cars that you can see is the Scatter car. Once this car appears all eyes should be on it as it triggers the Mad Bonus Game if it reaches the finish line.
Mad Bonus Racing Game
When a scatter car reaches the top row, the death race begins where you get 7 free spins and various car symbols that race to the finish line. Five Instant Prize Cars will appear and the boost reel will randomly spin bonuses for each reel that determine how the cars move. The Instant Prize Cars collect multipliers and move towards the final row to hopefully cash out these multipliers of your original bet.
Among these boost reel rolls, the player can receive the Persistent Payer, The Persistent Collector, and a Combo Car of these two. The Persistent Payer offers its multiplier bonus to other Instant Prize Cars. The Persistent Collector gathers all the multipliers of other cars into itself. Landing these cars and having them win throughout the free spins will award the player with massive cash-out opportunities.
James Marshall, CEO at Push Gaming said:
"Mad Cars delivers our players a title unlike any other on the market, it will see symbols racing to the finish line across the reels upgrading their wins as they battle for first place. These elements coupled with a max win of 25,000x means that we are particularly excited to see player's reaction to this highly immersive game."
The post-apocalyptic feel of this video slot game is enhanced by its light-hearted visuals and characters. This makes it a fun and exciting video slot experience for you to relax after a long day. Push Gaming does an incredible job of mixing thrilling visual design and innovative mechanics.