Quickspin Unveils Their First Live Casino Title Big Bad Wolf Live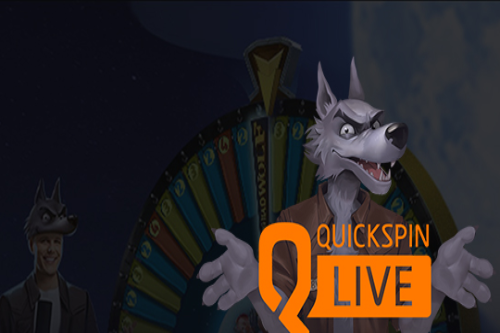 Quickspin, a community-beloved slot developer, is launching their first-ever live title called Big Bad Wolf Live. This will be their debut in the live casino gaming market in summer 2023.
Big Bad Wolf Live
Based on their previous release, the live version of this Quickspin release will be their first-ever live casino game. Quickspin aims to merge the fan-favorite online slot genre with a live dealer casino experience. Big Bad Wolf Live takes inspiration from game shows and slots alike with a flashy ambiance and exciting multiplier mechanics. The game is also inspired by wheel-of-fortune as it features a huge wheel operated by a live dealer where players can win amazing prizes.
The main mechanics of the game will therefore focus on the wheel as the central feature. This plan to merge slots and live games does not stop at Big Bad Wolf. Quickspin plans to release new live casino games every quarter and continue to innovate their products. We will have to wait and see how well do slots work as live games as it is not an easy endeavor. That being said, we are so excited to see what Quickspin comes up with since their brand is synonymous with quality.
Plans for Quickspin Live
Quickspin has been announcing the start of their live casino products for quite some time. Their need to innovate coupled with their creativity and quality graphic and mechanical design was bound to focus on live games at some point. Fear not, however, as they will not stop their regular slot production. In fact, the Quickspin Live platform will work in tandem with the regular studio to create games.
Their plan is to work with the Playtech group and Playtech Live technologies to make creative and innovative releases. Panagiotis Chryssovitsanos, the CEO of Quickspin, had this to say: "Quickspin was founded on the idea that we wanted to bring something fresh and innovative to the market with our own blend of high-quality production value, creativity, and love. That was 11 years ago. But the market has changed, the games have changed, and the player base has changed alongside it."