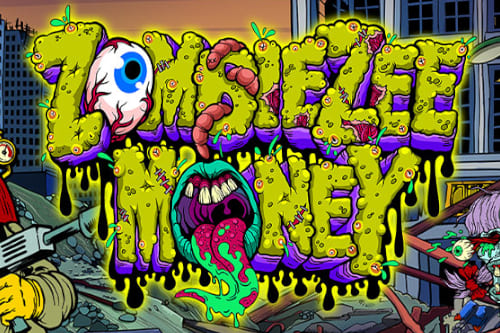 Rival Gaming just announced they were to launch a new version of their famous online slot, Zombiezee Money.
The popular zombie-inspired online slot has just got a brand new scary graphics update with a wide range of new spooky and wacky characters.
The handful of those who escaped the disease is in a continual fight against the flesh eaters. They gathered all the weapons to fight for their lives.
Even though they're in grave danger, Flaming Moe, Patty Pipeswinger, and Chainsaw Charley are having a bloody good time while killing the zombies!
The Scary Features
This popular slot was released in March 2013, and it soon became a smash hit among players. The story is located in a town infected by a zombie virus, turning all the citizens into living dead.
Man with a flamethrower and a chainsaw, alongside Patty with a killing pipe, are fighting against several zombies, a dog, a nurse, a little zombie girl, and a zombie baby.
Zombiezee Money is a five-reel and 20-payline slot, with 95% RTP. The game features two bonus rounds. Three or more brain icons trigger the Boneyard bonus. Whack-A-Zombie is an exciting way to kill any freakish monster as you get a chance to pick your weapon.
The Banker bonus game is the one that saves lives. Hitting three or more safe symbols (vault doors), you'll go six feet under, but not in a wrong way! You will get a chance to gather supplies for the next round of killing.
This slot also has expanding wilds where zombies will appear across the entire reel and turn it into Wild. One of these monsters is a dead-ringer to a particular celebrity.
About Rival Gaming
Rival Gaming is one of the leading B2B online casino games suppliers that started operating in 2005. Since then, the company has managed to team up with some of the world's famous casino operators.
Rival Gaming offers various games, from 3-reel, 5-reel, 6-reel online slots and progressive jackpots to table games and video poker.