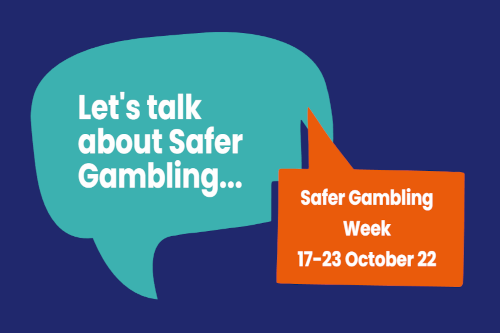 The Safer Gambling Week is back in 2022 and it starts on October 17th. This is a cross-platform project meant to remind people to gamble responsibly and generally promote safe gaming practices. The Betting and Gaming Council is backing this project and this is the fifth year of the Safer Gambling Week.
Safer Gambling Week is a campaign usually focused on the UK and Ireland. However, its messages and goals should be heard worldwide. To aid this cause, the event is being promoted on various land-based casinos, online casinos, and social media in general. Partners of this event also include Bacta, the Lotteries Council, and the Bingo Association.
The Main Goals
The crucial part of the Safer Gambling Week is to protect players and prevent gambling harm. Through this campaign, participants can spread awareness about potential problems a gambling addiction can cause. Additionally, and more importantly, the event provides various ways to seek help.
Besides promoting the event globally, there are some key messages to remember. Safer Gambling Week is all about raising awareness that people need to set limits for themselves in gambling hobbies. As casino gaming is a leisure time activity it should not endanger your real life. Additionally, the campaign also promotes the idea of mental and social health. You, your friends, and your family are more important than gambling.
The CEO of the BGC, Michael Dugher, elaborated how this week is an opportunity to show how the industry supports responsible gambling.
"We know that at 0.2%, rates of problem gambling have fallen and are low by international comparisons, which is welcome news, but Safer Gambling Week is further evidence of the regulated industry's determination to keep raising standards," said Dugher. "Safer Gambling Week is about showcasing safer gambling tools – like timeouts and deposit limits – that exist in the regulated industry to ensure that the millions of people who enjoy a regular flutter continue to do so in a safe and responsible environment.", he added.
Safer Gambling Tools and Helplines
As Michael Dugher mentioned, there are various responsible-gambling tools that can help someone who is having gambling problems. The Safer Gambling Week promotes this kind of Anti-Gambling Software to further assist individuals who need help with their problem. The main purpose of these tools is to block access to certain gambling sites.
Additionally, you can find various telephone helplines through Safer Gambling Week. Nothing can help a person more than having another real person talk to them about their problem. Human contact and supporting each other is what Safer Gambling Week is all about.
National Gambling Helpline: 0808 8020 133
Republic of Ireland: 1800 936 725
Northern Ireland: 08000 886 725
Do not hesitate to contact these numbers if you feel like you need them. Also, recommend these helplines and tools to anyone whom you feel has any kind of gambling problem.