Swedish Gamers Prefer to Register with Off-Shore Casinos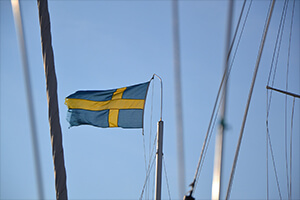 A recent analysis shows that the majority of new casino accounts in Sweden have been registered with off-shore casinos. The analysis also shows other interesting trends when it comes to the Swedish gambling market that should get regulated in a more liberal way until the end of the year.
The Number of Casino Account Holders Increases
In a press release published on the official website, Mediavision, a Stockholm-based consulting agency that runs the researches of the gambling market, has stated that an increase in the share of gamblers who have registered accounts with gambling sites has increased within the last 12 months. Today, almost 60% of Swedish citizens in the ages between 18 and 74 have a registered gambling account, which is an increase of 12% compared to the last year.
When it comes to the largest share of registered gambling accounts, Svenska Spel is still the top-ranked operator. Together with ATG and Postkodlotteriet, the accounts with the Swedish biggest operator make up 58% of all registered gambling accounts. However, analysing the casino accounts created within the last 12 months, the researchers at Mediavision have found out that off-shore brands such as Bet365, Unibet and LeoVegas among others are more popular with Swedish players lately. Actually, newly registered gambling accounts with popular off-shore brands make up 60%.
Possible Explanation and Solution
The analysis indicated that the competition increased, said one of the researchers. According to him, one of the possible explanations why the off-shore brands attain a higher share of new accounts is their marketing approach with special offers and deposit bonuses. He also reminded that Swedish operators were prohibited from doing it.
For the record, the Swedish gambling market should be fully regulated with new gaming licences granted by the end of 2018. So far, the Swedish gambling regulator has received over 60 applications submitted by the gaming operators who want to offer different forms of entertainment to Swedish players. According to the latest reports, 55 operators seek online casino and sports betting licenses. Although the new set of regulations promises a more liberal regime, there are still no details on how the new legislation should be interpreted when it comes to advertising and marketing limitations.