Swedish Player Hits €6.63 Million Jackpot on NetEnt's Mega Fortune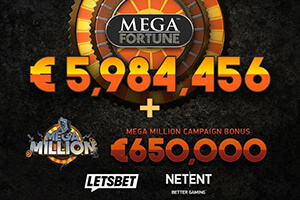 NetEnt millionaires should definitely get together and form a club – one thing they will never need to worry about is the membership body since there's no doubt that NetEnt progressive slots will keep new winners coming at regular intervals.
One extremely lucky LetsBet online casino player will forever remember July of 2018, when his life took a sudden turn for the better, after winning €6.63 million on Mega Fortune, along with €650,000 that the developer added to the jackpot as a part of their Mega Million campaign. Obviously, the massive winning streak continues, as three progressive jackpot hits have already been recorded in July this year on Hall of Gods, Arabian Nights and Mega Fortune Dreams.
A fact that many will find interesting is that the 27-year old winner only signed up for his LetsBet account three hours before the life-changing event. According to the new millionaire, what was expected to be no more than a pleasant spin session with a few hits here and there turned into a frenzy in no more than a single second. Judging by the trend, the biggest jackpot since December 2016 is bound to be topped any moment now.
If you are looking for a reputable NetEnt casino to try your luck at some of these impressive progressive slots, then Casino Bloke can highly recommend Mr Green and SpinIt.