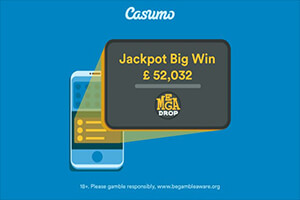 Imagine this – you are sitting in your couch on an afternoon no different than every other. It is a cold windy day and you have no intentions on getting out. So you find other amusements. You may read a book or play cards with your partner. Or you may try your luck.
You don't know if you have luck until you test it, right?
Exactly that is the thing Tania from Liverpool, a Casumo player, did and won the jackpot of £52,032.69. Sudden mind blow for her as she was honest.
Easy Evening Turned Victorious
Tania was sitting on her couch in the living room, right next to her husband, when she hit the first ever Red Tiger Mega Drop Jackpot. The game of Tania's choice was Wild Wild Chest when she hit a £52,032.69 while playing at a £0.40 bet.
"I was at home when I won and I think that the first words I uttered when I saw the win are probably too inappropriate to jot down for your story", said Tania.
The lucky Liverpudlian started playing at Casumo because she used to enjoy playing Bingo. Her favourite slot game today is Donuts by Big Time Gaming. She likes Casumo for providing its players with "so much variety".
Miracle is Possible
Tania's win was just one among many that happened in December. Seems Santa was really busy last holidays and all the Britains were really, really good. And we already wrote about how good fortune smiled at Canadian bus driver Lisa. You can read it once again here.
Although there are sayings that it is impossible to win great amount on the slot games, Tania just proved wrong. And she did share a valuable piece of advice for all the fellow players feeling lucky.
"My advice to other players would be to have fun spinning, but to also know your limits. And if you believe that this could never happen to you then think again," said Tania and added that miracles happened and that one would change her family's life.
All you need to do to join the Must Drop Jackpot games is register an account with Casumo if you haven't already done so. Log in, select Must Drop Jackpots, choose a game from the list and tap the play button for action. Good luck!