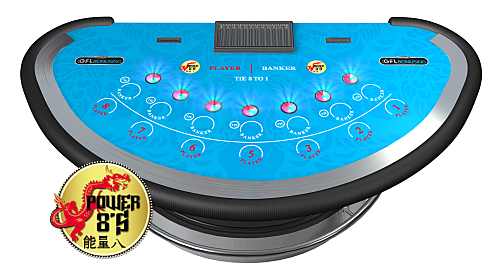 This year's edition of Global Gaming Expo Asia starts on May 16 and will last for three days. The event will be held at the Venetian Macao Convention & Exhibition Center in Macao, one of China's Special Administrative Regions.
This will be an opportunity for the industry to showcase new products and technologies, while a large number of developers and suppliers will present their latest gaming solutions.
TCS John-Huxley will unveil its Baccarat Power 8's, their latest progressive-Baccarat side-bet release, a fun and exciting take on Baccarat and Mini Baccarat that is currently available at Tsogo Sun Casinos in South Africa and will soon be coming to the UK as well.
How to Play
Players can bet the combination (these combinations are called suit) and the frequency of dealt 8's. The wager is placed on initially dealt four cards, or on the total number of drawn cards.
If a win occurs, the three top progressive jackpots are shared equally among those who made the winning bet. Depending on the outcome, not only will the paytable differ, but also the eligibility for the jackpot payout.
The Paytable
If there are four 8's in the initial deal, the top progressive paytable will be shared equally.
If there are four 8's including drawn cards, the second progressive paytable will also be shared equally.
If three 8's are of the same suit, including drawn cards, the third progressive paytable will be shared equally.
The 20-for-1 and 4-for-1 paytables are won individually, in cases when the outcome is three 8's and two 8's of any suit, respectively, including drawn cards.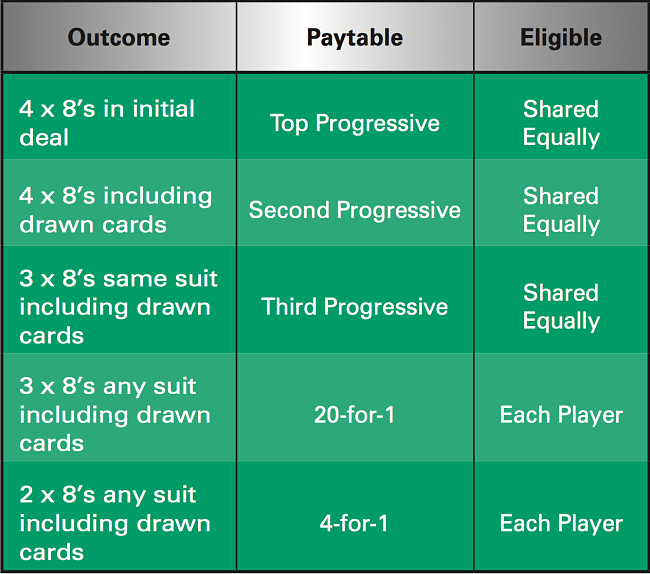 UK-based TCS John-Huxley is one of the world's leading manufacturers and suppliers of premium live gaming solutions and services. The extensive product portfolio reflects the company's commitment to innovation, growth and technological advance.
Global Gaming Expo Asia (G2E Asia) is the international show and conference, focused on the Asian gaming market and organized by Reed Exhibitions and the American Gaming Association (AGA). The event has been held annually in Macao since 2007.