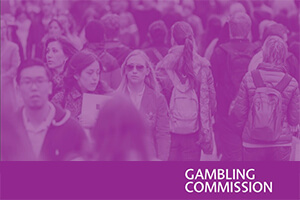 The UK Gambling Commission has published another annual report on gambling participation in 2018. The report conducted by an independent market research company focuses on behaviour, awareness and attitudes of approximately 1,000 interviewees.
According to it, the National Lottery draws remain the most popular gambling activity. The percentage of UK citizens who played online remains the same as in 2017.
Overall Gambling Participation Remains Stable
The report shows that overall gambling participation remains stable when compared to 2017.  It shows a slight increase of 1% with 46% of respondents aged 16+ participated in at least one form of gambling in 2018. In 2017, the report showed that 45% of participants took part in at least one form of gambling.
When it comes to age, without interviewees that participated in the National Lottery draws only, the age group between 25 and 34 has the highest participation level of 40%. Over half of gamblers, 52% to be exact, gamble at least once a week while the percentage of those who gamble on their mobile phone or tablet increased by 4%, from 51% in 2017 to 55% in 2018. The percentage of participants in the survey who gambled online remains the same as in 2017, 18%.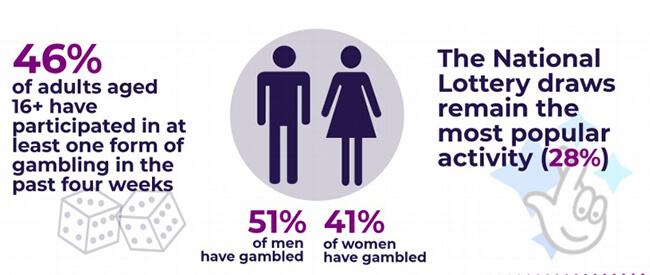 As for problem gambling, 1.1% of respondents are identified as moderate-risk gamblers, while there is 2.4% of those being classified as low-risk gamblers. The proportion of gamblers who have ever self-excluded is at the same level as in 2017 with 6% of participants having confirmed self-exclusion. The results of the research show that 47% of interviewees are aware of the possibility of self-exclusion.
Only 20% of gamblers have read terms and conditions of which 27% have found that terms and conditions are unfair. It is also stated that only 8% of gamblers have ever made a complaint to or about a gambling operator.
It is interesting that the percentage of gamblers who think that gambling is fair and can be trusted has slightly decreased, from 33% in 2017 to 30% in 2018. In addition, the number of those who think that gambling is associated with criminal activity has also decreased, from 41% in 2017 to 38% in 2018.
About UKGC Annual Report
This report compiles the data the UKGC collected during 2018 via a combination of telephone, online and health surveys. The answers gathered through the telephone survey are based on four-week gambling participation.
The survey was conducted on a quarterly basis in March, June, September and December of 2018 by Populus, a full service and research consultancy based in London.