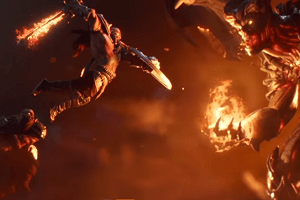 The creators, the innovators, the game changers, or simply – Yggdrasil Gaming are taking all gamers to the depths of the underworld with their latest video slot Vikings go to Hell. The much-anticipated blockbuster is the third edition of their Vikings slots and, after the battle against the terrible sea monster in Vikings go Wild and the quest for the vast treasures in Vikings go Berzerk, four Vikings are about to discover the very gates of hell!
Will the Vikings defeat the goddess Hel?
Up until now, the good people of Yggdrasil kept much of the information regarding their upcoming title pretty close to the chest, since they decided to make the official presentation at ICE 2018 edition in London on 6th February. All we know so far is that the group of four fearless Vikings are now on the very gates of the underworld, where they just defeated the guardian of the gates of hell. As the doors open and the ferocious Hel goddess appears, the final battle is beginning, and this is where the teaser ends.
We can only suppose that the 2018 release will be packed with action, at least as much as its famous predecessors. Anything else would be a huge disappointment. We expect plenty of free spins, exciting and rewarding Bonus games, and maybe a sticky Wild or two, who knows? The only thing that is certain for now is that Yggdrasil will not disappoint, the winner of the 2017 Innovator of the Year award rarely disappoints when it comes to the quality of its titles.
Vikings go to Hell on the show at stand N-3 140
All gamers who had the pleasure of visiting ICE 2018 at ExCel London on 6th February could have seen the preview of the 2018 release at stand N-3 140. Since ICE will last until 8th February, there is still a chance for you to experience the latest Yggdrasil product yourselves. Otherwise, you can always check out the fantastic teaser on Yggdrasil Gaming official website.
According to our sources, Vikings go to Hell will see the light of the day on 15th February, so until then, you can test your luck with the previous two editions of the Vikings trilogy, so go on a hunt for the terrible sea monster in Vikings go Wild, or experience the rage of Norse mystical warriors in Vikings go Berzerk. Be sure to check out Casinobloke's slot reviews section every day, because we will be among the first websites to publish a fresh review of Vikings go to Hell!