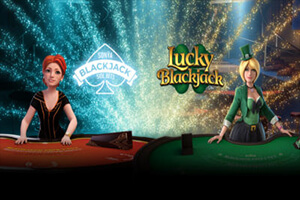 Having surprised both fans and experts with unique Sonya Blackjack at ICE Totally Gaming 2018, Yggdrasil is back to present further news on what the company calls "a table game-changing experience".
One of the most innovative casino games developers has created Lucky Blackjack as a unique combination of a live and an RNG casino game built on its proprietary REDUX™ platform.
More Betting Options, More Fun
Using motion-capture technology, the team has given computer-generated dealers the ability to interact with players in a similar manner live ones would do. Sonya Blackjack was the first of Yggdrasil's table games playing in a 3D casino environment and hosted by virtual dealers. The lovely lady got the job as a Blackjack dealer working in a replica of a Vegas casino, waiting to welcome players and deal them in as soon as they'd place their bets.
Since there was no Bet Behind option, if Sonya's table happened to be full, one would have no choice but to wait. Players were offered to stand, hit, double, split two cards of equal value, and purchase Insurance when their host revealed an Ace. The game was using 6 decks and, at the end of each round, the shoe was reshuffled by a certified Random Number Generator.
Though Yggdrasil has initially announced that Roulette and Baccarat are to follow later on, we're first being treated to two new immersive Blackjack games. One is playing at an Irish-themed table and the other is an upgraded version of the original Sonya Blackjack, both being able to sit up to 3 players and thus provide a shared casino experience.
The updated variant of the game we've grown to love will enable one to also place optional side bets. Lucky Blackjack, hosted by a dealer named Lucky, brings its own optional wagers – Lucky Lucky and Lucky Ladies. Both games now include the pre-decision feature and thanks to swifter animations, the games play faster than at Sonya's first table. Picture-in-Picture History is yet another new feature which allows participating players to replay their winning hands in full detail.
Evolution of Interactive Table Game Offering
The good people of Yggdrasil claim that with multiplayer options and an added layer of player engagement in the form of side bets, Lucky Blackjack and the newly-upgraded Sonya Blackjack are some of the most engaging, immersive table titles on the market today.
"The release of Lucky Blackjack and the new Sonya Blackjack features is really exciting for us as it marks the evolution of our interactive table game offering", says Marcus Honney, Head of Table Games at Yggdrasil.
Though these exciting new games are yet to be seen, Casino Bloke had the pleasure of playing with Sonya and is eager to try all the enhancements Yggdrasil has announced. He'll also make sure to play a round or two at Lucky's table and promptly share further information.
If you are looking to give the Yggdrasil table games a try, you can do so at our recommended Yggdrasil casinos.