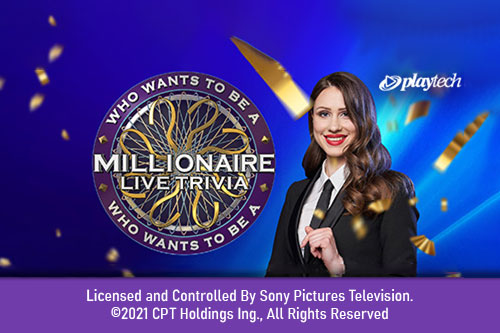 Make sure you visit Leo Vegas Casino this summer because the upcoming month will be extremely hot. The newest promotion on offer is the Who Wants to Be a Millionaire? Live Trivia game, where players have an opportunity to win a share of €100,000!
Every day, starting from 11th June, there will be two or three live game shows per day. Each of them offers at least €1,000 to the player who wins the show. It means that Leo Vegas will give away as little as €2,000 to the best competitors every day.
Show Offers Difficult Questions
Leo Vegas Casino is doing this in cooperation with Playtech. This live show will be presented by a live host, which will ask you questions. As you go up the ladder, the questions will become more and more difficult. All questions come with multiple choices. For every question, you will have 15 seconds to answer. So do them all and win the money. It's as easy as that.
The lowest prize if you answer all the questions correctly is €1,000. The prize can also be €1,500, €2,000, and €3,500 on the final day of the promotion. Due to the fact that on the last day of the promotion Leo Vegas gives 2 prizes, on 11th two lucky players will win €7,000 in total.
It Is Free to Join the Fun
Unlike most of the promotions that require certain deposits, the Trivia Show Live is free of charge. Players don't even need to have any money on their accounts. To participate in the show, answer the first question correctly and remain present for the duration of the game.
There is a 30-second pause between the two questions, so you will have enough time to keep your mind still. Click here and create an account with Leo Vegas Casino if you want to become a millionaire!