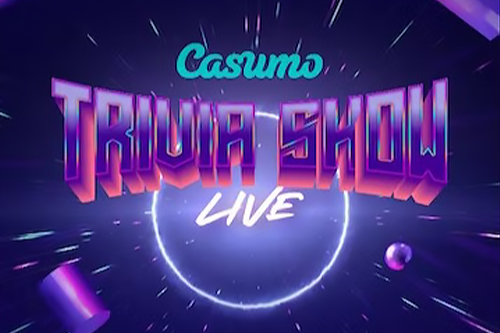 Renowned online casino and sportsbook Casumo is cordially inviting you to its festive Casumo Trivia Time Show, a once-in-a-lifetime opportunity to score something from the £408 Golden Chip prize pot.
The show started on December 4, and it will last until Christmas on December 25, 2022.
Answer the 10 questions right and you might win a hefty prize.
The Fun Show
According to the announcement, Casumo Casino Trivia Show is a month-long promotion that covers exactly four weeks. Or more precisely, it covers four Sundays, as the Trivia Time Show happens only once a week (on Sundays).
The starting date for the promo show is December 4, and it will continue until December 25 (the final game show).
During the promo period, four Games will take place. Each Game is a live game show event in which players who want to win something participate.
Hosts lead each Game night and ask the participants 10 questions and whoever answers all of them correctly the fastest will be the winner of the total prize pool.
And that's the best part: you can win up to £408 in Golden Chips!
Additional Rules
To participate in the Games, you only need to opt-in and join the live Trivia Time Game on Sundays, starting at 20:30 CET.
It is good to remember that participating is free of charge and no wagering requirements exist for the prizes. Plus, all prizes come as Golden Chips that you can exchange at the casino lobby.
Lastly, the entire Casumo Trivia Night Game show prize pool is £2,000, with £408 as the prize pool per Game night.
Visit Casino on Sundays and enjoy superb casino prizes.
All casino terms & conditions apply. 18+. Please gamble responsibly.