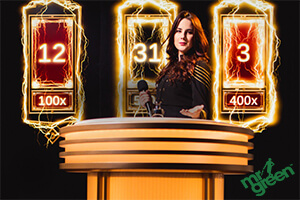 A new live dealer table goes live at Mr Green this week and you can join it to win your share of the massive €35,000 prize pool.
Lightning Roulette is the latest addition to the Evolution Gaming portfolio and it combines the rules of the European version of the game with advanced RNG gameplay. Innovative features that make this game unique on the market are Lucky Numbers and Lucky payouts, so stay with us to learn all about this new live casino game and the promotion you can join to celebrate its launch.
Spin the Wheel for Multipliers of up to 500x
Evolution Lightning Roulette is an extended Roulette game with standard bets kept and extra chances to win with Lucky Numbers and Lucky Payouts. The game looks great with an electrifying user interface and a stunning black and gold Art Deco design. It uses the Direct Game Launch feature, meaning that players don't have to launch it directly from the Live Casino lobby, but they can also do it via links available on any web page, email or text. An unlimited number of players can join a Lightning Roulette table at the same time.
What makes this live dealer table stand out from the crowd is an additional chance of winning. Besides regular bets and payouts, this Live Roulette variant offers so-called Lucky Numbers and Lucky Payouts. During each round of the game, up to five Lucky Numbers can be struck by lightning and award payouts of 50x up to 500x bet.
The amount of Lucky Numbers (one to five) and the amounts of the Lucky Payouts are randomly generated. The ball has to land on the Lucky Number that a player has placed a Straight Up bet on for a Lucky Payout to be awarded. A non-multiplied Straight Bet pays 30:1 while all other regular bets such as splits, corners, red/black and dozens pay the same as standard Live Roulette.
Take a Seat and Win Your Share of the Prize Pool
Between 6 and 26 April, Mr Green customers can join the Lightening Roulette table and enjoy a unique Roulette experience. Not only that you can win a 500x your bet payout, but you can also win one of 100 cash prizes totalling a massive €35,000 prize pool.
Click here to visit Mr Green for a chance of winning big at the Lightning Roulette table!
Alternatively, visit Fun Casino from 6th April to 4th May and take part in the Lightning Roulette tournament with a £1,750 prize pool.