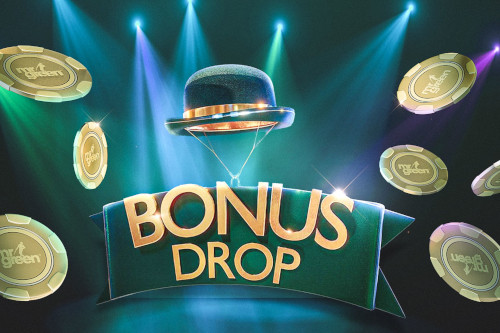 Free prizes every single day? Impossible! However, everything's possible if you play at Mr Green online casino.
The casino recently launched a brand-new daily promotion which is active every single day at the casino. To participate, you only need to be a registered player at Mr Green online casino.
The Green Bonus Drop
The main thing to keep in mind about this promotion is that it's a deal for the registered players only. The deal is simple – visit the casino site, locate the Bonus Drop machine and play the disc to see if you've won a prize.
Here is how the Bonus Drop disc works:
You get a disc and choose where to drop it – left, middle, right
Once you've selected, drop the disc
It will fall either into a win, no-win, and retry
If it's a win, you get either Free Spins or cash
A no-win means you are not getting anything, while retry gives you an extra chance. The promotion started on November the 7th, and will go on until Mr Green decides to cut it. Spins will be valid for specific casino games, and you'll see which when you land the prize. The casino will specify which game is in question.
Additional Promo Rules
We must note that the promotion is valid only for UK players who hold Mr Green accounts in GBP. You cannot participate if you live outside the UK. Moreover, Mr Green has strict protocols in place aimed to prevent bonus abuse and misbehavior. Please play close attention to the casino rules and specific bonus rules set by the casino.
Oh, and don't forget – this promotion is a casino deal in which you compete for a chance to win a bonus – and each bonus comes with a set of specific rules. Before you claim the bonus money or spins, make sure you are well-aware of the rules and follow them to get the prize.
Visit Mr Green Casino and claim your Bonus Drop today!
Please gamble responsibly. Gambling is a form of adult entertainment above all. When the fun stops, you should, too.
All standard terms and conditions apply.
You need to be of the legal age of 18 to participate.