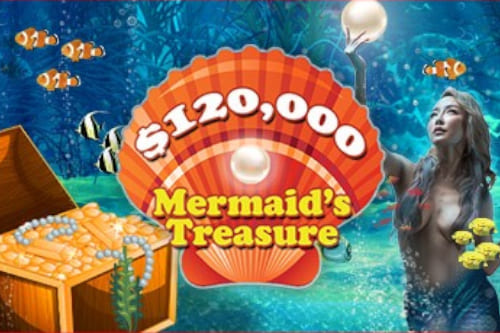 The deep, blue sea has been keeping so many secrets for centuries now. A lot of those stories talk about long-lost treasures that can be found at the bottom of every sea and ocean. According to the legend, mermaids are the rulers of the sea and the famous sunken island of Atlantis, as well as guardians of vast riches.
This is why Intertops Casino decided to organize a treasure hunt, so all of you who want to join the action should pack your snorkelling equipment.
What Are the Prizes?
Starting from 8th June, players will be battling for one of 300 weekly cash prizes. If you play your cards right, you can see your name among lucky winners every Monday morning. The total prize pool is set at mouthwatering $120,000, while every week gamers will win a share of $30,000.
Up to $500 can be won in the weekly prize draw. Also, there are additional rewards that can end up in your pockets on Thursdays. Players can find themselves among 50 lucky winners, with rewards ranging from $20 to $150. Finally, at the very end of the promotion, one lucky gamer will get an additional reward of $1,000.
Follow These Steps to Win
First of all, you will have to make a minimum deposit of $75 at Intertops Casino, and this will allow you to qualify for the Monday Bonus. Play $100 on any game on the offer, and you will get 1 point for the leaderboard. Play your favourite games between Monday and Wednesday to qualify for the Thursday Bonus.
Click here and visit Intertops Casino for more information about the Mermaid's Treasure promotion. Just remember that the offer is valid until 6th July. There are plenty of other rewarding promotions at Intertops, which you could find very interesting.