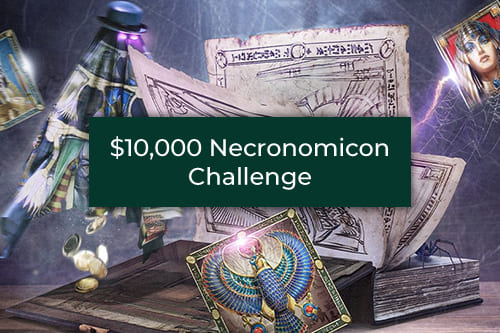 The age of darkness is upon us, and only you can say the world from ancient prophecies. The spells from the Necronomicon have disappeared, and that is why Mr Green is searching for the bravest among gamers to stop the dark forces and restore the balance between good and evil.
If you dare to enter the tournament, you may finish among the top 100 contestants and pocket a share of €10,000. Depending on your final leaderboard position, you can win as much as €3,000 during the €10,000 Challenge. Note that the challenge lasts until 4th November and that there is no time to lose.
Aim for the Highest Coin Wins
Do not worry. You don't actually have to battle against dark forces. It will be enough to play the selected games. Check out the list of games once you enter the competition. The goal is to make the highest win in a single spin. There are four different games to be played, and your final result will be combined from all four qualifying slots.
The minimum bet is €0.20. Every bet below the minimum will not count towards the promotion. For every Euro earned, players get points. For example, if you bet €1 and win €100 on that bet, you will pocket 100 points for the leaderboard.
First Prize €3,000
Betting continues because you need to place bets on different games. The highest wins from all qualifying games are combined, giving you your total for the final leaderboard. If you prove worthy, your name will end up among the top 100 contestants.
Click here and create an account with Mr Green if you want to go on this exciting journey. Cash prizes vary between €25 and €3,000, depending on your final position on the leaderboard. End the race second or third to win €2,000 or €1,000, respectively.