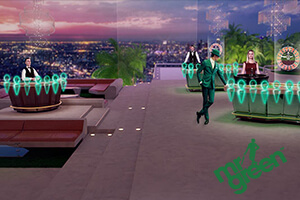 Mr Green has launched Live Beyond Live, a one-of-a-kind 3D environment, and invites all its players to join the €20,000 challenge to celebrate exciting news.
The unique virtual casino floor with two Roulette and two Blackjack tables will be available to PC and Mac users as of 1 June and you can enjoy an immersive virtual studio experience and win your share of the €20,000 prize pool.
How to Join the Challenge
To join Live Beyond Live challenge, Mr Green players have to play at the qualifying Blackjack and Roulette tables on their PC or Mac devices and collect points to climb up the leaderboard. If you get to any of the payout positions on the leaderboard, you will win your share of the €20,000 prize pool. While playing your favourite table game, you will see other players getting lucky, which will add more excitement to the challenge.
The promotion lasts between 1 and 6 June, so make sure to join it as soon as it starts and you can be one of the winners! Play Roulette or Blackjack and jump to different tables by clicking on the table you wish to play at. The casino will also provide you with a mini-map showing the dealers and table information to help you navigate around the room within the game.
About Live Beyond Live
Live Beyond Live is a unique virtual casino floor offering an exciting experience of playing traditional casino table games. The action at four tables is brought to your screen via live stream and you will see people moving around on the floor, other players betting and even helicopters and airplanes flying in the background. As we have previously mentioned, you can move between the tables and whenever you move to a new table, you will see the room from a different angle.
The 3D environment was initially available to mobile players only, but now PC and Mac users can enjoy it too by visiting the Mr Green's Live Casino section and choosing a Live Beyond Live table to their liking. With real players placing their bets in real-time, Live Beyond Live will provide you with the most realistic gaming experience and you don't have to leave the comfort of your home to enjoy it.
Click here to visit Mr Green and join the Live Beyond Live challenge for a chance to win your share of the €20,000 prize pool!