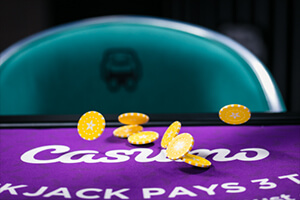 Casumo Casino has launched its new Live Casino Studio offering exclusive Blackjack and Roulette tables. All Casumo customers are invited to celebrate its launch with a promotion offering daily and weekly prizes during the first two weeks of August.
How to Enter
Between 6 and 9 August, players can play Casumo Live Roulette for a chance to win £10,000. To enter the first raffle, you have to place a £10 bet. Even if the ball doesn't stop on your number, you are granted an entry to the raffle taking place on 12 August in which you can win one of Apple gadgets or cash prizes:
1st prize – 1 Apple package (1 iPad pro, 1 iPad mini, 1 iPhone X and 1 MacBook Pro)
2nd prize – 1 MacBook pro
3rd prize – 1 iPhone X
4th prize – 1 iPad Pro
5th prize – 1 iPad Mini
6th to 20th prize – Cash
A £10 bet on the Casumo Roulette table also earns you a golden ticket to a £10,000 raffle that will take place on Sunday, 19 August. It will be held in Casumo Live Casino studio at 8PM (CET).
Grab Bonus Card at Live Blackjack Table
That's not all, as Blackjack fans can win some extra money on top of their winnings during the second week of the promotion. All you have to do is to play Casumo Live Blackjack between 13 and 17 August and look up for a bonus card. Every day between Monday and Friday, from 6PM till 11.59PM, the casino will add 20 bonus cards to the dealer's shoe.
If you are dealt one or more of the bonus cards, you can win:
Gold Card: £500
Green Card: £100
Blue card: £50
Orange card: £30
Red Card: £10
A minimum wager you have to make to qualify for a bonus card is £5. Just like with the Roulette promotion, if you place a £10 bet on the Casumo Blackjack table, you will earn a ticket to the £10,000 raffle. A lucky winner will be drawn on Sunday, 19 August, in Casumo Live Casino studio at 8PM.
About Exclusive Live Tables
At the newly built Live Casino Studio at Casumo, players can enjoy exclusive Blackjack and Roulette tables. Although it is not easy to stand apart from the competition, Casumo managed to avoid all the Vegas clichés and make the overall environment even more engaging. A unique look of the studio and the design of dealer's uniforms will provide you with a fresh live casino experience.
Click here to visit Casumo for a chance to win £10,000 in cash, an Apple gadget or a cash prize!