Play NetEnt Live Games and Get up to €200 in Bonus Cash at Mr Green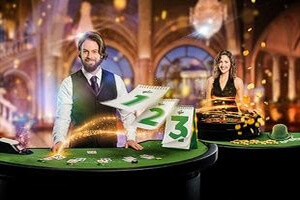 Players who prefer live casino games to RNG-operated ones can start the New Year with some attractive promotions at Mr Green Casino.
If live casino games are your cup of tea and you play NetEnt live dealer games, you can get up to €200 in bonus cash throughout January. What's more, Roulette players will have a chance to refund their losses if the ball lands on zero. Stay with us to learn how these live casino promotions work.
How to Get Live Casino Bonus
Between 1 and 27 January, all live casino players at Mr Green will have a chance to lay their hands on €200 in bonus cash. To get a bonus, you have to play NetEnt live dealer games. If you wager €200 per day on them over 3 consecutive days, you will be rewarded with a €50 cash bonus.
The offer can be claimed every week, meaning that you can grab up to €200 in bonus cash during the promotional period.
Refund Your Loses at Roulette Table
Between 4 and 6 January, Mr Green provides its customers with the so-called Green Insurance. What's the deal? The promotion is available to all players who join Mr Green's Exclusive Evolution Roulette table 1 and wager at least €10. In case the Roulette ball lands on green zero, Mr Green will refund your stake.
In case you bet between €10 and €25, you will get a €10 cashback, players who wager from €26 to €50 will get €25 while those playing Roulette at a stake between €51 and €75 can get a €50 cashback. If you prefer playing the game of Roulette at higher stakes, you can get a €75 or €100 cash back when you wager from €76 to €100 and more than €100 respectively.
Click here to visit Mr Green and get up to €200 in bonus cash or up to €100 cashback!