Set off on a Space Adventure with Mr Green and NetEnt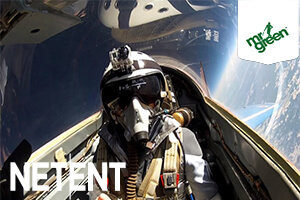 Elon Musk made history last week by sending the world's most powerful rocket Falcon Heavy and his luxurious cherry red Tesla roadster to space. Today you can watch a live stream of the roadster cruising through space with a mannequin named Starman in it.
If you want to set off on your own space adventure, but you cannot afford a ticket with Virgin or Xcor, you should consider suborbital flight training in a MiG-29 Fulcrum Jet. This is the closest to a space flight you can get and with a little luck, you may be the winner of a ticket for the journey of a lifetime, as Mr Green and NetEnt are ready to launch one player, well, almost into space.
To qualify for the prize draw you have to wager a minimum of €200 on any NetEnt game between 15 and 28 February. With every €200 you bet, you will receive 1 entry into the prize draw. The lucky winner will be able to see the curvature of the Earth from 70,000 feet above ground from the MiG-29 Fulcrum Jet. Besides the flight in the fighter, the prize also includes a VIP adventure to Florida, USA, where the lucky winner will be put up in a fancy hotel, visit the Kennedy Space Centre and even have lunch with an astronaut.
When NetEnt launched the Cosmic Eclipse slot in December 2017, little did we know that they would really send people to space. This offer can make your dreams of flying to space come true.  At the altitude of 70,000 feet, which is more than twice as high as a commercial airliner, the sky disappears and turns black, so you can enjoy the vastness of the universe just above your head.
Click to visit Mr Green and you may be the lucky winner of an adrenaline-fuelled journey!