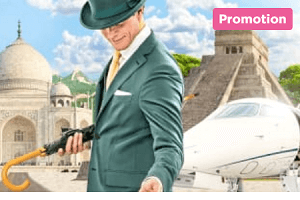 The ever-generous Mr Green has partnered up with NetEnt to prepare yet another attractive promotion for his loyal followers in the year in which he celebrates his 10th anniversary.
The contest starts on 26th April, so join the party now and you will be able to compete for a fantastic prize that includes an amazing visit to all 7 World Wonders.
Win a Holiday of a Lifetime
First, we will talk about what you can win, and that is a fantastic 27-day trip across the globe for you and one friend, because Mr Green just wants to make sure you that you will not be lonely on your voyage. You will visit Rome to see the Colosseum, go to Amman and experience Petra, fly to Agra and enjoy Taj Mahal, see Beijing and stand next to the Great Wall of China, go to Cancun to visit Chichen Itza, travel to Cusco and Machu Picchu, and take a selfie next to the Christ the Redeemer at Rio De Janeiro.
You will get luxury 4 and 5-star accommodations in each city you visit, breakfast included. Also, there will be airport chauffeur and return airport transfers at each destination. You can also count on a private tour of each 7 Wonders.
All Travel Visas will be paid. Don't worry about lunch and dinner either, because a Michelin or equivalent restaurant meal is waiting for you in each city, as well as a hotel dinner.
How to Take Part in the Prize Draw
This is the most important part of the story. After signing up with Mr Green need to play any game from Mr Green's game collection and for every €200 played, they will receive one prize draw ticket for the '7 World Wonders' Draw. Players may get up to 11 prize draw tickets during the promotional period and increase their chances for the final draw.
The promotion will last until 6th May, while the final draw is scheduled for 7th May. One lucky globetrotter will take his/her friend on a trip of a lifetime!
There are plenty of other rewarding promotions coming from Mr Green's creative kitchen. Players may win a share of €15,000 in Lucha Maniacs Cash Race just by playing the new Lucha Maniacs video slot until 1st May. Also, if you are crazy for Free Spins, then you should definitely check out Mr Green's Game of the Week and pocket up to 700 Free Spins until 30th April.