Win 5 Nights Under the Northern Lights at LeoVegas Casino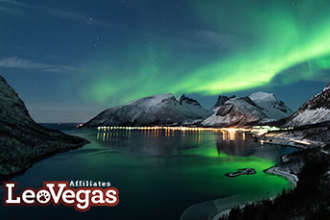 One of the biggest questions in our childhood was whether Santa Claus is real. Well, thanks to the good people of LeoVegas Casino, gamers will have an opportunity to visit his homeland and see for themselves if Santa truly exists. There is the amazing offer of visiting Lapland (all expenses paid) for the lucky winners in the New Year raffle organized by LeoVegas Casino.
What is included in the offer?
Lapland is a winter wonderland and the home of reindeers and, supposedly, Santa Claus. This will be a perfect chance to finally see for yourselves whether he is actually there. LeoVegas will be sending two lucky winners and their plus ones to the Kakslauttanen Arctic Resort in Lapland. You would be spending five nights in this breathtaking resort set in the wilderness of Lapland. Gamers will have a chance to sleep under the stars, because the igloos they will be sleeping in are glass roofed. Imagine how it would be to sleep under the Northern Lights!
That is not all, because players will also have a chance to pick several activities during their stay. There is a total of six activities, including a husky safari that lasts for four hours, going on an Aurora hunting while driving on a sleigh drawn by horses, Nordic skiing trainings, driving snowmobiles and seeing reindeers and much, much more!
What do you have to do to win?
The promotion starts on 10th December and will last until 1st January, so the winners will be known on the second day of the New Year. New players will have to make a minimum deposit of £50 and also wager the deposit in the Live Casino or Casino.
Any game on the offer will do the trick and you can wager your deposit on your favourite game. This will get you one ticket for the raffle scheduled for 2nd January.
Click here and visit LeoVegas Casino to learn more about this amazing offer and get your raffle tickets straight away if you want to experience the beauties of Santa's homeland.