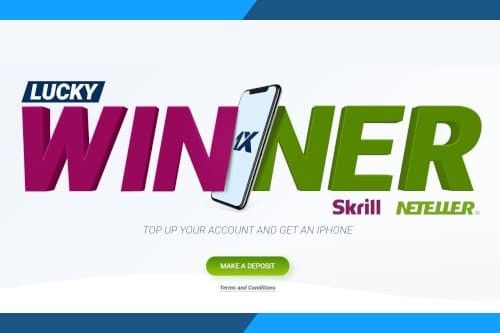 If you want to be a part of the Lucky Winner promotion, offered by the good people of 1xBet Casino, you will need to top up your account these days.
Do not worry, there is plenty of time for you to join the action, because the offer is valid until 31st January 2021. At the end of every month, three lucky gamers will walk away with a brand new iPhone!
How to Take Part in the Offer?
It is very easy to join the fun, because your only task will be to make a deposit of $10 or more via Skrill or Neteller, and you will get your prize draw tickets. Now, you can also secure more tickets if you make bigger deposits. It is possible to win up to 1,000 tickets in one deposit, but that will cost you more.
Starting from 1st June, gamers have the option to enter the monthly prize draw. The first draw was organized on 1st July, and the top three prizes were three iPhone 11s. That is not all, because a total of 245 cash prizes have been shared among other lucky winners!
How Many Monthly Draws Are There?
Well, a total of 8 monthly prize draws have been prepared for you. The first was on 1st July, and the last will be held on 1st February. Each month, you need to collect your prize draw tickets until the last day of the current month.
Apart from cash prizes that will be shared, gamers will also compete for the iPhone 11 Pro, iPhone 11 Max, and iPhone 11. Click here and visit 1xBet Casino for more information on how to join the fun and win a brand new iPhone! If you do not need a new iPhone, compete for one of the cash prizes on the offer.