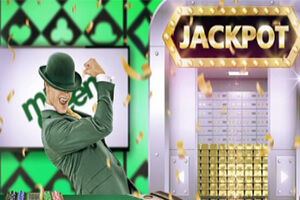 After one Mr Green player won a €5,000 jackpot in the February's Live Casino jackpot challenge, you have a chance to take part in the March edition and become the next big winner.
A new €5,000 jackpot is waiting to be claimed and the first player who triggers either the Blackjack or Roulette challenge in the March Rolling Jackpot promotion will win the jackpot.
How to Join the Challenge
There are two challenges and you have to overcome one of them to become the next jackpot winner. If Live Blackjack is your cup of tea, you have to get 4 Blackjacks in a row. You are not allowed to bet behind and only single seat betting is permitted.
If you are more into Live Roulette, you have to win 4 Straight Up single number bets in a row. You are allowed to cover only 70 percent of the table at once and only bets on Straight Up single numbers will qualify you for this promotion. Note that only hitting the same number in four consecutive rounds, for instance, 3 Red, 3 Red, 3 Red, 3 Red, can earn you the jackpot.
No minimum bet is set.
There Can Be Only One
Players can join the Rolling Jackpot promotion until 31 March, but only one player will win a staggering €5,000 jackpot. If no one overcomes any of two challenges, the jackpot total will roll over into April, adding to the existing jackpot amount for that month. That simply means that if no player hits the jackpot during March, the April's jackpot increases to €10,000.
The jackpot prize is awarded in real cash and it will be added to the winner's Mr Green account within 72 hours.
Click here to visit Mr Green and play Live Blackjack and Roulette for a chance to win the €5,000 jackpot!