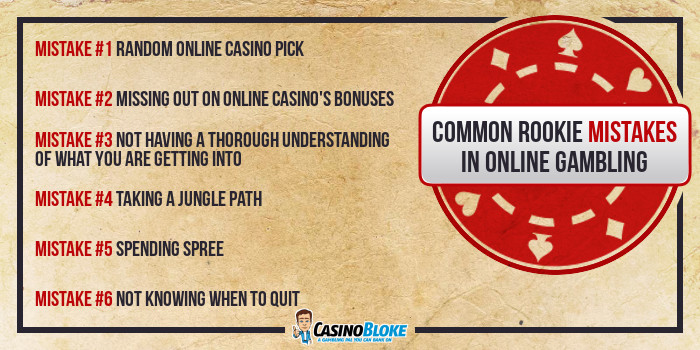 It's all fun and games until somebody gets hurt – how many times have you heard that especially when you were up to no good kid, carefree and unaware of the consequences that the wrong choice can bring? And then you grow up and learn that not much has changed and that you are still just as clueless as an adult, only a little bit more vulnerable because now you get to pay for your own mistakes. This is particularly true with online gambling (well, it's actually true for all other age appropriate recreational activities, but let us stick to finances). Contrary to what most people think, online gambling is not as unpredictable as it seems at first glance. It does, however, require some patience and skills, two things that can make a world of difference and even (who knows?) turn you into an online casino hard-core professional. For the time being, stick with us and don't quit your day job – not just yet, anyway.
That's right, we made the ultimate sacrifice and made all the rookie mistakes so you wouldn't have to. Here is the list of things you must never ever do if you want to cash out your online time and get out as a winner.
Mistake #1 – Random Online Casino Pick
This is definitely one of the worst things that you can do to yourself and you better believe that there is no use crying over spilt milk afterwards. Hey, why simply not handing your money over to the first person you meet – far better than entrusting it to any random casino you just pulled out of a hat. Whatever excuse you have for doing this, we already heard it and used it. Just a few minutes of your time is all that is necessary to protect yourself against any online casino's shenanigans. Read what other people have to say about the casinos you are interested in and check who their regulatory and license issuing bodies are. It is literally all you need to do filter the reputable casinos from the blacklisted online providers.
Mistake #2 Missing Out on Online Casino's Bonuses
The great thing about casinos' bonuses is that they are not necessarily linked with the deposit. Sometimes the online casinos welcome the new player with a no-deposit bonus and the free spins are loaded onto your account as soon as you register and claim the bonus. One of the reasons some players will avoid the bonuses are the wagering requirements you will need to meet before the withdrawal can take place.
Still, you can always opt for a bonus that has no play-through requirements or use the bonus cash to wager some more and prolong your overall gameplay time. The time will not be wasted – on top of gaining valuable experience and testing different games, the casino will also award you loyalty points.
Mistake #3 Not Having a Thorough Understanding of What You Are Getting Into
For the love of God, read the fine print, especially when promotions and withdrawals are concerned. This way you will not be shocked when you learn that you are not yet eligible to pull out your winnings and transfer them to your bank account. If you do not want that type of restriction, go for the wager-free bonuses or find a casino that provides the alternative.
Try to be as informed as possible when picking a game – always go for the one you know you can take. If you would like to experiment and try something new, it is always a good idea to begin with playing in test mode, until you are 100% certain that you understand all to rules and how the special features work.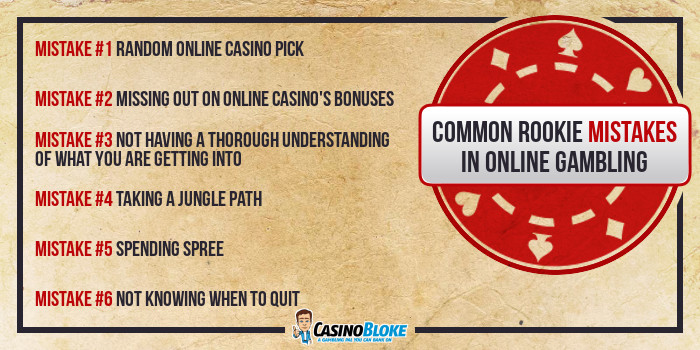 Mistake #4 Taking a Jungle Path
Jungle Path is a term used to describe the absence of any structure or strategy in your endeavours – one thing that separates a successful gambler from, well… a not so successful one, to put it mildly. If you are going to do this, you may as well do it right. Depending on the game category you selected, you will need some sort of a strategy. Our advice is to always start with determining a budget and sticking to it. Step two would be finding the correct game-related strategy. This means:
Choosing the betting method
Brushing up on the game rules and tactics
With the games that depend on chance more than anything else, such as Roulette, you will need to dedicate more time to designing your wagering plan and working on your damage control. Figure out how long you need to be in the game to make a profit and plan your budget and stakes accordingly.
If you are playing skill games, such as Poker or Blackjack, make sure to brush up on the rules and popular strategic methods. Until you master them, you can always use the fun play mode to practice and make it perfect.
Mistake #5 Spending Spree
The budget is lava! And no matter how hard you want to, you must not touch it if you are soon to be out of it. Keep the spending free fever for the season clearance sales and leave it out of the online gambling zone. Let us assure you that wasting all of the money that you've put aside for online gambling can be devastating and far from being fun. What is fun is crushing your opponents and slowly getting to the finish line, instead of burning up at once because you were too eager. Save your energy grasshopper and remember, monitoring your budget will prolong your gameplay and the longer you play, the closer you will get to the jackpot. There's only room for one on the top!
Mistake #6 Not Knowing When to Quit
Things haven't really turned out the way you were hoping for and you lost more than you anticipated. Or, better yet, you followed our advice and everything worked like a charm – your balance just hit the roof and the visit to the online casino was a great success. Now is the time to walk away – in both cases!
The first case scenario is actually nothing to feel bad about. Every now and then it will happen to the best of us, no matter how experienced we are. It's just one of those things that you can turn into your own advantage by learning from it. What did you do differently or what didn't you do that lead to the unsuccessful session? "Losing streaks" often have little to do with luck and are actually a string of wrong choices and inadequate strategy. Analyse every aspect of the situation and you will soon manage to pinpoint the cause of every bad hand. More importantly, do not feel tempted to stay and recover your money. Sleep on it, re-group and start over fresh. Online gambling is one place where you have to have a cool head.
The second case scenario, which we are all obviously hoping for is winning plenty of money. Once you achieved that, stick to the plan and the budget you made before starting to play. Leave while you are ahead and do not get greedy – the casino will still be there tomorrow. And remember, the winning rush can be just as dangerous as the anxiety to recover the lost balance. Resist it, stay disciplined and never spend more than you have originally decided on.