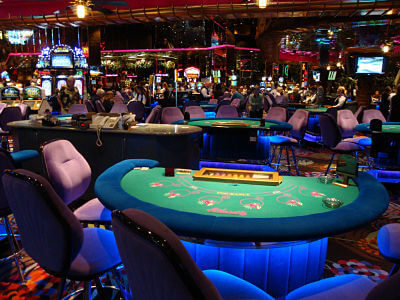 If you are already spending a lot of time in online casinos and feel as if you were in your natural habitat among cyber video slots and casino tables, you might want to consider upgrading your game and applying a more disciplined approach to your gameplay system. After all, it doesn't hurt to mix a bit of business and pleasure and turn your casino hours into a profitable endeavour. For the main part, the thrill of the online gambling is in the winning itself, not necessarily making a profit. Still, regardless of your motive, having a positive balance at the end of the day means that your time was not wasted and that it was wisely invested. So, why not make some cash by doing something that you actually enjoy?
If you feel that being a professional gambler requires a lot of effort and work, you are right. Being a successful and skilled player, on the other hand, would only require some common sense and implementation of a few simple rules that will make all the difference without taking a lot in return. Believe it or not, it is much easier than it seems – we are not talking about changing your career path; we are merely illustrating how some minor behavioural changes can turn your online casino time into a part-time job and generate a fair amount of pocket money.
Things to avoid
Let us start with the Don'ts of online gambling. If you are in it only for the money and do not feel any true passion for the game, you will not get very far. Greed, as powerful motive as it may be, is short-lived and passion is what remains. Therefore, you should avoid any short-term solutions and quick-fix approaches as it will only have a counter-effect.
Many people will try to make a profit by attempting to swindle a casino. We will not deny that this can be done, but ultimately, it can cause more grief than success and cost you more than you have bargained for. In reputable online casinos, honesty is the best policy and will pay off more in the long run. Without any further ado, here are some of the things that you should definitely avoid when dealing with online casinos.
Multiple accounts – most online casinos allow one account per user in order to successfully track the welcome bonus redemption. The idea behind creating multiple accounts is exploiting the promotional casino offer more than once, especially if the welcome bonus is not restricted with wagering requirements. You may feel that this is a good idea, but thanks to the casino's security system, you are likely to get caught which will result in a severe penalty. Your accounts will be blocked and you will not be able to withdraw any of your winnings  – both money and valuable time will be lost and, at the end of the day, you will have nothing to show for. Now, imagine a different scenario – you do everything by the book and in accordance with the casino's Terms and Conditions. The result: you get to withdraw your cash and everybody is happy. No muss, no fuss!
Partnering with other players – also known as collusion and usually deployed at Live Casino Poker tables. Teaming up and sharing information is considered as a serious form of cheating and can also result in an account suspension. And is it really worth being suspended from a solid and trustworthy casino, which is bound to happen, given that online operators use intricate and sophisticated systems to spot and prevent any form of fraud? If you are still having doubts, the answer is no. Instead of developing a web of lies and deceit, working on your own skills will prove to be much more rewarding, especially considering the stakes. After all, what is the use of cheating your way to winning all that money if the casino calls you out on a violation of agreement and guidelines and freezes your winnings?
Tricks of the trade that will not get you in trouble
Bounty hunter  – although chasing bonuses may not appear as a "classy" thing to do, there is absolutely nothing wrong with taking the most out of an online casino's offer. It is a perfectly legitimate way to increase your wagering budget and get familiarised with the casino. If you are on a budget, bonuses such as deposit matches and free spins are simply perfect for testing the games that would otherwise be outside of your wagering reach. Also, redeeming the bonuses will give you enough time and space to learn through practice and establish yourself as a frequent casino visitor and collect your loyalty points. Over time, your scent for bonuses will evolve and it will not take more than a glance to decide if a particular bonus will work for you, without even reading the small print. Before you become an experienced bonus hunter, we strongly recommend that you go through the bonus terms and conditions very carefully – wagering requirements are something most players are forced to understand only after a series of failed withdrawals.
Imitate – it is said that imitation "is the sincerest" form of flattery. You can learn a great deal from watching other players at a Live Casino table or by hearing what they have to say about their own approach to gambling – be it a card game or a video slot betting strategy. Fortunately, most casinos will let you peek at their Live tables (if only for a brief period of time) without wagering and you can observe the action. If you are not sure what you need to do, take notes of how the successful players behave, what moves they are drawing and when. Soon, you will understand the logic behind their actions and apply it to your own gameplay.
Develop a system/strategy – if you want more out of your online casino activity, strategy is crucial. Every game allows for a strategic system. Games of chance (standard video slots, progressive slots, roulette, baccarat etc) may not require a complex set of skills but can be controlled through systematisation of your wagers, while games such as poker and blackjack will have a significantly reduced house edge even if you use the basic strategy.