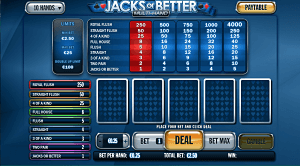 The online casino world overflows with entertaining games you can wager your money on. Video poker always fits in a special category that somehow doesn't get as much attention as roulette, blackjack or slots. This is unfortunate, because video poker can grant players big winnings with minimal investments, and still provide them with captivating gameplay and pure casino fun.
Video poker is made for players who like to apply a bit of skill during their gaming sessions and leave only a part of the outcome to chance, as well as those of you who take pleasure in low-house-edge games with open possibilities for large wins. The gameplay is as simple as it gets: the machine requires 1 to 5 coins after which you receive five cards. You make a decision about which cards to keep and which to remove. Discarded cards get replaced by the software and you get paid according to the value of your newly generated hand. Now, if you wish to engage in a more ambitious series of video poker rounds, there are a few things you should pay attention to. Here are some tips for an encouraging start.
Relieve Yourself from Stress
You should always bear in mind that the cards are randomly chosen and dealt completely at random. The software found at reputable casinos is regularly tested for fairness, which leaves no space for casino operators to try to rig the games or trick you in any way. Payout rates are usually public and proven but constant auditing. The best attitude you can assume is one without stress and without unnecessary paranoia. The relaxed approach can take you a long way, and not just regarding video poker machines, but any type of online gambling as well. Play to have fun and the money will follow.
Play the Maximum
One of the common advices given to video poker novices is to always play maximum coins, or, if not always, as often as possible. We know betting maximum coins can be costly for some, but that is the only way to get a full value for a Royal Flush. If the lucky hand happens to come along and you've played fewer coins, the resulting payout will be much less than what you'd receive if you'd played the max. Royal Flush doesn't happen as often as we'd like to, but one never knows when that moment might come. The next one could be lurking around the corner, and if you spare resources you might miss it.
Check the Game's Payout Rate
Some video poker variants can give you more for your money's worth, others can be less generous. The financial return you can expect while playing certain games is expressed in percentages, and some video poker alternatives can offer you a 100% return (in specific occasions). Others guarantee a 99% payout rate, under the condition that you carry out a perfect play. Some return 97% of your invested money over time. You should make sure your money lasts longer – in other words, choose a right video poker machine for the best results.
Start with Baby Steps
It's not for nothing that people say 'learn to walk, before you can run'. Start with games that are more suitable for beginners, and work your way from there. Video poker isn't hard to master and you'll surely advance in a rapid pace, but it would be smart to break the ice with the simplest of titles just to feel the game and its basic qualities. The gambling community agrees on Jacks or Better being the best choice for newbies.
Practice Before You Wager
Practice makes perfect! We live in fortunate times when internet can provide us with answers to almost everything, even how to play video poker successfully. The amount of useful material on game rules, tactics and strategies is practically limitless – from books and articles, to free video tutorials. The great thing about online casino games is that you can find high-quality versions available for demo play. Basically, you can play any video poker machine online for free and acquire valuable experience for future real money bets. You'll see what the consequences of your mistakes are and try not to repeat them during actual play.
Know the Game
As all things in life, video poker skills need to be learned and perfected. Make sure you take enough time to consume the rules of the game and the strategies that go along with it. This is a prerequisite, and should be no bother at all if you're truly interested in the charms of video poker. For best results, take your time and make progress in your own tempo. Once you have the hand values and appropriate strategic moves at the palm of your hand (we almost made a pun), everything else will be a breeze.
Manage Your Funds
Our final advice doesn't strictly apply to proceedings of a specific casino game, but will considerably improve your gambling habits, the ones you rely on when playing video poker machines. Play the stakes you can afford. This, above other things, will make you a happy gambler. The desire to win will always be present, but you shouldn't let it dictate your bankroll management. Play moderately, and always keep track of your winnings and losses. It is the only way to properly absorb potential failure and move forward, stronger and more capable – into successful gaming rounds.