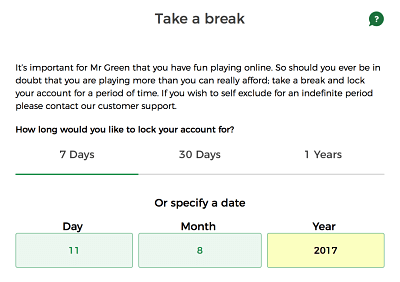 There is nothing wrong with leaving your comfort zone and taking a little bit of risk now and then –that unique feeling you get when you enter the realms of the winning streak where the gods of good fortune favour you is unparalleled and the rush that comes over a player who beats the odds cannot be measured in coins. Winnings are just a side effect – it is the feeling of power and achievement that we crave, not the money.
The gambling thrill is indeed addictive and coming back for more is understandable. But, what happens when gambling starts interfering with your everyday life and becomes so overwhelming that the safe amount of "guilty" pleasure and healthy adrenaline boost is replaced by obsessive compulsive behaviour that can leave serious consequences and damage your life quality?
What Exactly is Self-Exclusion?
If you have been displaying some of the signs that suggest the onset of a gambling problem, such as a lack of control over your gambling habits and inability to limit the time you spend at online casinos, self-exclusion may just be the answer you are looking for. The procedure can even be used preventively, as a precaution method that restricts any type of addictive behavioural patterns in online gambling.
In short, self-exclusion is a process of deliberate and consciousness restraint from any type of gambling, enabled and conducted by both the player and the service provider. By opting for this method, the person is agreeing with being deprived of gambling services for a pre-defined period of time. Clearly displayed information on how to do so is a legal requirement that has to be provided by every licensed gambling provider.
How Does It Work?
The procedure for self-exclusion is simple. The relevant steps that must be taken in order to make the exclusion possible are listed across all main branches of the gambling industry, although the entire procedure is probably easier at online casinos. The scheme includes the following:
No access to online gambling websites for at least 6 months or more (the identity of an individual is confirmed by providing a photo).
Complete elimination from all marketing and promotion related databases
Pre-defined duration of the scheme, without the option to abandon it before the set date
According to gambling laws and regulations, online casinos have a legal obligation to provide a separate Responsible Gambling section with clear information on how to initiate self-exclusion.
The first step would be pausing your online casino user account for either a short time period or even closing it for good so that you would not "fall off the wagon". Additional tests to evaluate the level of potentially dangerous behaviour that you are displaying are available on the same page, where you can estimate the risk through a series of questions. The results of the questionnaire will be followed by useful links and materials as well as the suggestions for downloading a specialized software which allows you to block gambling sites.
Online casinos often provide separate phone lines for people who would like to start the process of self-exclusion, however, one can simply contact the casino's customer support who will then instruct them on how to proceed.
Alternatively, one can visit the Remote Gambling Association (main online global gambling industry representative) website, where the list of online casino departments that deal with self-exclusion can be obtained or simply get in touch with either GamCare's NetLine or National Gambling Helpline whose trained operators will assist you further.