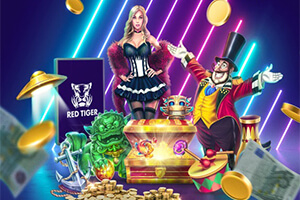 Progressive slots are popular with casino players because of life-changing jackpot prizes they can deliver. They are slot machines with a top prize that increases with every bet until the jackpot is hit. An innovative feature that makes playing jackpot slots even more exciting has been recently introduced by Red Tiger Gaming.
The feature is called Must Fall Jackpots and it guarantees that the progressive jackpot will drop every single day. Stay with Casino Bloke to learn more about Red Tiger progressives ready to deliver some big wins!
What is Must Fall Jackpots Feature and How it Works?
According to the developer, Must Fall Jackpots, also known as Must Drop Jackpots or Must Go Jackpots, are progressives that are guaranteed to pay out before a set time each day. Developed as the industry's first, this Red Tiger community product has gone viral with many reputable casinos having integrated it in its offer.
The Must Fall Jackpots feature makes jackpot payouts much more accessible. Even though these do not award life-changing payouts, casino gamers have a chance to get their hands on considerable wins every single day. If you decide to take your chance with one or more of Red Tiger's progressive slots, you will gain access to three progressive jackpots:
This is a progressive jackpot that must fall before it reaches £1,000 or £2,000. The amount varies from one casino to another. What is invariable is the rule according to which the jackpot must be paid before it hits the set value. Since it does not take a lot of time for the prize pool to fill up again, this jackpot awards payouts quite often.
This type of progressive jackpot must drop every day before 11 PM CET. The amount one can win depends on the total wagered by all players and it's hard to tell how big it can be. Knowing that Red Tiger slots are popular with casino players, you can expect this jackpot to be worth more than £10,000 per day.
This is the most lucrative jackpot which works like all the other progressive jackpots on the market. All players contribute to the prize pool which keeps on increasing until the jackpot hits.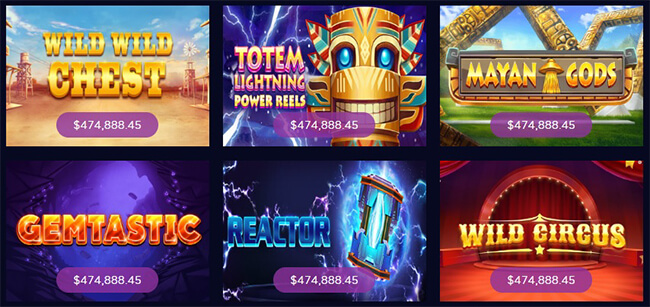 All casinos powered by Red Tiger Gaming and run by the same operator that have incorporated this feature share the same prize pool, meaning that jackpots are pooled between different gaming venues. Once you load the game in the Must Fall Jackpot promotion you will be informed about the timeframe within which one of the available jackpots must drop. The best part about Must Fall Jackpot slots is that they provide players with a chance to score a progressive prize on top of their regular winnings.
About Must Fall Jackpot Slots Collection
All Red Tiger-powered slots available on gambling sites offering Must Drop Jackpots feature contribute to the prize pool. However, a selection of games may vary from one casino to another. To know which games you can play for a chance to hit a progressive jackpot, visit the dedicated section at the online casino of your choice. Here are some of the most popular Red Tiger slots equipped with the Must Fall Jackpots feature:
With Tiki Fruits, Red Tiger takes you to a Hawaiian beach. Played at an unorthodox 8×10 layout, the slot uses the Cluster Pays system with cascading reels providing you with an additional chance of winning. The slot benefits from the free spins feature while the Totem Activator removes random symbols adding them to the Fruit Meter. Once the meter is filled, low-value symbols are removed from the grid thus enabling players to hit bigger wins.
Totem Lightning Power Reels
This is an upgraded version of Totem Lightning, a Red Tiger 2017 release. Featuring an 8×6 grid with 30 fixed paylines to create your winning combos across, the slot uses the Native American theme. What's great about it is that you can remove all low-value symbols from the reels making room for high-value ones to create more lucrative winning combinations. In addition, the Lightning Strike feature can remove some of low-value symbols or clone symbols at random.
As you can guess from its title, Mayan Gods is a video slot inspired by the Mayan civilization. Using 5 reels and 20 paylines, the slot brings four deities to the screens of your desktop and mobile devices. Keep an eye on them as they will help you obtain some hefty prizes. They can act as 2×2 Wilds or add extra Wilds to the reels, transform themselves and other symbols into icons of a kind, remove low-value icons or boost multipliers.
How to Win a Must Fall Jackpot?
To win one of the three progressive jackpots, you have to find an online casino offering the Must Drop Jackpots promotion. Register with the casino, join the promotion and start playing any of Red Tiger slot games to your liking.
If you want to win a Must Drop Jackpot capped at £2,000, take a look at its current value. The closer to the maximum value it is, the bigger chances of winning you have. When it comes to Daily Jackpots, it is advisable to check out how much time has left for a jackpot to be hit. As time passes, the odds of winning a jackpot will be higher.
Where to Play Must Fall Jackpot Slots?
For a chance to win one of the jackpots from the Must Drop Jackpots network, visit our dedicated Red Tiger Gaming page and choose one of the casinos powered by the reputable developer.
On this page, you can also find a full list of Red Tiger games, meaning you can learn more about them and slot features they offer.