BEST ONLINE CASINO CRAPS GAMES 2023
Whether you choose to play virtual craps or you decide to join one of the live dealer tables, you will be facing a pair of six-sided dice. The sides of a die show numbers from 1 to 6. When two dice are rolled there can be 11 final totals resulting in 2, 3, 4, 5, 6, 7, 8, 9, 10, 11 and 12. However, the number of possible combinations of numbers that make these totals is much bigger – 36. There are 6 possible combinations of a total of 7, which makes 7 the number most likely to appear as the result of the roll.
While craps seems like the simplest game ever, it provides an extensive range of betting possibilities. There can be various betting options in various versions of the game, but the core set of bets remains the same in most games of craps you will find online. The bets are made before the dice are rolled, by placing chips directly on the appropriately-marked sections of the layout. Each round of craps consists of two phases – the come-out and point. The initial roll is considered the come-out and if the roll results in a 7 or 11, this will be considered a natural, the player wins and gets to roll again. Other possible outcomes are craps (2, 3 or 12) or point (4, 5, 6, 8, 9, or 10) and the most common craps bets are Pass Line/Don't Pass Line, Come/Don't Come, Proposition bets, Place bets, Field bets, Big 6/8 and so on.

ONLINE CRAPS PLAYED FOR REAL MONEY
Why are you here for? Do you just want to play craps for fun or do you want to unleash the full potential of the most famous game of dice by investing real money in it? If you are a complete beginner, we wholeheartedly recommend that you try out craps in demo mode first. As much as you feel you could play for real money right away, play a few rounds just for practice without wagering any of your personal funds. Real money craps tables won't go anywhere. They will be waiting for you whenever you feel ready to make real money bets on the dice roll.
Playing craps online for real money is no different than playing for fun. The gameplay is the same, so are the bets. The only difference is that you won't be betting virtual money, but your own funds that you have previously uploaded to your casino account. As a result, anything you win will be added to your balance and you will be able to cash out.
Depending on the types of bets you decide to play, you will be facing different house edge percentages in a game of craps. Pass Line, Don't Pass Line, Come, and Don't Come bets are the best as they have the lowest house edges – 1.41% and 1.36%. Betting on Hard 6/8 will increase the house advantage to 9.09%, the same as betting on Big 8/6. These bets offer large payouts, therefore seem attractive, but they are quite risky and will probably drain your bankroll.
MOST POPULAR REAL MONEY CRAPS GAMES
MOST WIDELY PLAYED CRAPS GAMES ONLINE
If we just look at games that are deemed as craps in the most specific way, there aren't many variants available online. However, if we broaden the scope a bit and look at other dice games that share similarities with craps, there is a decent variety to choose from. Whenever you feel like the roulette wheel, the slot reels and the cards aren't doing it for you, try some dice games. These are some of the most popular titles you will find at the best craps casinos on the web.
EVOLUTION CRAPS LIVE
Craps Live by Evolution is a much-anticipated title that finally dropped in late 2020. Announced as the "world's first online Live Craps game", the game turned out to be a premium live dealer solution despite all the challenges of adapting a live game of craps to the confines of online play. A robotic arm plays the Shooter role in the game, whereas a real dealer loads the dice into the arm when required. Novices can benefit from both the "Easy Mode" and a simple interactive tutorial that helps them get started. Craps Live comes complete with One Roll Bets and Multi-Roll Bets for your enjoyment, as well as features like Dynamic Statistics and My Numbers.

Full Review of Evolution Craps Live Here!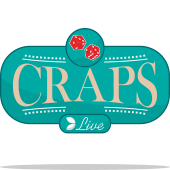 VEGAS CRAPS
Vegas Craps by Microgaming is a virtual game of craps with nice-looking graphics and realistic sounds with the announcement of rolls. The full set of craps wagers is available, with Place bets being called Win and Lose bets. The software includes keeping track of the results of the previous rolls and more sophisticated statistics. The main control buttons are Undo, Redo, Clear, Repeat and Roll.

Full Review of Vegas Craps Here!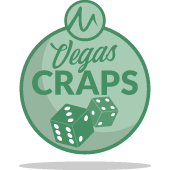 PLAYTECH CRAPS
Craps by Playtech is an excellent online craps game with superb characteristics. It is available for both real money and practice play and sports a lovely interface that simulates a real craps table. The animations are also great and the roll history page allows the player to keep track of the relevant statistics. While some may argue that the dice used in the game are oversized, we find them fun to watch. A 3x multiplier applies whenever a Pass, Don't Pass, Come or Don't Come bet is made.

Full Review of Playtech Craps Here!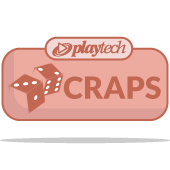 1X2 GAMING CRAPS
Craps by 1×2 Gaming is a classic online game of craps. It is a fast-paced game featuring high-quality graphics with detailed icons and vivid animations. This is a good title for beginners as it does not come with many surprises. It has all the one-roll and multi-roll bets that are characteristic for modern craps. It features a female dealer voice and you can also play it for free. The RTP stands at 99.53%.

Full Review of 1x2 Gaming Craps Here!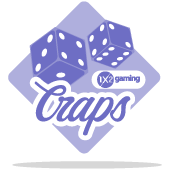 LIGHTNING DICE
Lightning Dice by Evolution Gaming is a game similar to craps, but it is played with three dice instead of just a pair of dice. The game takes place in a glamorous studio and uses a unique shaker machine called the Lightning Tower. It has three levels and it is constructed from clear Perspex. The host rolls the dice by letting the tumble down the Lightning Tower, while the players are required to predict the outcome. RNG software assigns random multipliers to winning wagers by releasing lightning strikes. A very engaging and rewarding dice game that is meant to be a spectacle.

Full Review of Lightning Dice Here!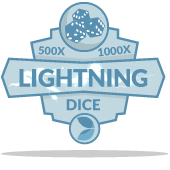 ONLINE CRAPS FAQ
Most common questions related to online craps
GENERAL
Numerous casinos online feature RNG-powered craps games from different providers, and some will even offer dice-based live dealer games, as well. Both options provide players with the chances to win real money. To find the best online casinos to play craps online, look at the list of recommended operators featured on Casino Bloke's craps casinos page.
There is no particular strategy that will help you win every time or beat the house edge, however, you can play smartly and pick bets with good odd over bets with less favourable odds. Making good betting decisions and understanding the rules fully will increase your chances of having a prosperous craps casino experience online.
Much like in roulette, where you can't predict in which pocket the ball will land, you can't predict the outcome of a dice roll. Virtual craps games are based on RNG technology and their results are, therefore, completely random. To be sure you are betting on fair games always play at a reputable online craps casino. These selected casinos implement software with certified random number generators and are regularly audited by the most respected authorities.
Yes, many online casinos will give you an opportunity to test their software by allowing demo play on both slots and table games. Playing craps for free is the best way to learn the ropes of the game, master the terminology and try out various betting options before switching over to real money play.