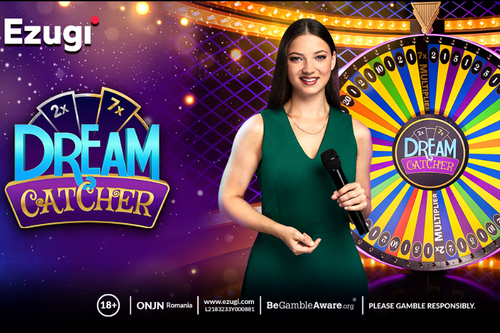 Dream Catcher is one of Evolution's crowning live casino achievements. Arguably, it's one of the key releases that launched the live casino game show craze we see today.
On December 20, 2022, Ezugi launched a retail version of the game that will be available in real-life venues such as betting shops. How does it all work? Let's find out.
Evolution Excellence, Now Available in Retail
It's worth mentioning that Evolution, the original creators of Dream Catcher, are Ezugi's parent company. However, Ezugi has more experience in delivering retail gambling products in the game show niche. Specifically, Ezugi Bet on Numbers and Golden Balls are available in this format. That's why the subsidiary will be handling this edition of the Evolution game.
To clarify, retail gambling shows are not like regular live casino games (though there are many similarities). Instead of being accessed through personal devices like computers and smartphones, retail games are most often available in brick-and-mortar establishments such as betting shops and gambling-licensed cafes. They are broadcast to screens in the venue itself, and visitors can participate by placing bets locally.
Dream Catcher will now be coming to retail locations across the globe.
Catching Dreams in Retail
To the uninitiated, Dream Catcher is a betting game show that involves a large wheel like the one in Wheel of Fortune. Charming professional presenters spin the wheel, and players can wager on the results. You can read our full review of the game to find out more.
In the retail version of the game, the pace is much lower to allow players from across the globe to properly place bets. he Ezugi betting shop offer for each game consists of a cashier interface, TV screen displays, and an administration system.
Fredrik Bjurle, Ezugi's CPO, had this to say:
"All of our retail games are streamed live to betting shop customers in real-time—and all offer new betting opportunities every few minutes. We are confident that Dream Catcher's mix of live money wheel gaming action, suspense and multipliers will be a big hit with retail customers."