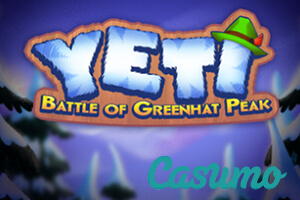 New and existing Casumo players will have a chance to play the upcoming Thunderkick release Yeti – Battle of the Greenhat Peak two weeks in advance of everybody else.
According to the casino's announcement, the new Thunderkick slot will be available on the Casumo website as a beta release as of 23 May.  The official launch is scheduled for 6 June, when Yeti – Battle of the Greenhat Peak will go live at all other gaming venues offering Thunderkick titles.
Yeti – Battle of the Greenhat Peak Slot Review
So far, a few details about the game have been revealed. It is obvious that it draws inspiration from the folklore of Nepal where the Yeti or Abominable Snowman is believed to reside. We have done some research, but could not find a place with a name "the Greenhat Peak", so we assume it has to be a fictitious location in the Himalayas where you will get to meet this imposing creature to win some hefty payouts.
The news on the Thunderkick official website says that the game features Wilds, Wild Attack Spins and a bonus game with Sticky Wilds, which promises loads of entertainment and multiple opportunities to win.
Before you set off on an ice-cold adventure with the new slot from the independent developer, make sure to check out their latest release Wild Heist at Peacock Manor and enjoy a plethora of bonus features and modifiers that will boost your odds throughout the game.
Welcome Summer at Casumo and Win Your Share of £100,000 in Cash
Don't forget about the ongoing promotion hosted by Casumo during which you can win some cold hard cash every day.
The promotional period started on 14 May and lasts until 2 June with an unbelievable prize pool of £100,000 in cash. Click here to find out more about the way it works and how you can qualify for £5,000 daily prize draws.
Click to visit Casumo and enjoy the new Thunderkick slot and many other exciting casino games!