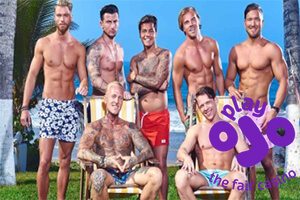 PlayOJO Casino has struck a deal to sponsor Paradise Hotel, the most popular reality TV series in Sweden. The online gaming operator will sponsor all 30 episodes of the hit TV show season 8 which will be broadcast on TV3 from 3 September.
Sweden Is One of the Core Markets
Powered by the SkillOnNet platform, PlayOJO is one of the most recognisable casino brands in Europe. After entering the Swedish market in January this year, the operator takes the headline spot for Paradise Hotel which attracts more than 400,000 viewers per episode.
Head of Brand Marketing at PlayOJO Peter Bennett said that Sweden was one of their core markets and that that the casino was already a household name in Sweden.
"We wanted to continue to grow our brand presence and trust among consumers. Paradise Hotel is watched by our target audience and has incredible brand affinity and loyalty," said Bennett and added that the partnership would help them cement the brand as the most popular and trusted online casino in the market.
According to Mats Nyman, VP FTV at Nordic Entertainment Group in Sweden, Paradise Hotel is one of their most popular shows with a strong fanbase.
"We are very pleased to announce that PlayOJO is the official sponsor this season and our collaboration will also give more value to our viewers," added Nyman.
Launched in the UK in February 2017, PlayOJO has already established itself on the European market by its "for the players" approach. Their launch in the Swedish market was accompanied by a multi-million SEK TV and online campaign that informed players about PlayOJO's ethos. Striving to be a fair online casino that gives players more control over their money, the gaming venue has won several industry awards so far, including Rising Star at the EGR Operator Awards 2017.
About Paradise Hotel
Paradise Hotel is an American reality television programme that aired on Fox in 2003. In Sweden, it premiered on TV4 in 2005. The show features a group of young singles competing to stay longer in Paradise Hotel by coupling up with members of the opposite sex. Otherwise, they risk being forced to check-out early with new guests taking their place.
Paradise Hotel Sweden has seen ratings increase 33% year on year. According to the production, this year Paradise Hotel promises more drama, love and betrayal than ever before, so viewers should get ready for twists, turns and plenty of new faces checking-in. While the girls will be in charge of the hotel, the guys will fight for their survival.
Apart from USA and Sweden, the reality show is popular worldwide with its Israeli, Norwegian, Dutch and Belgian, Danish, Russian, Hungarian, Slovenian, Slovak and Czech and international versions.